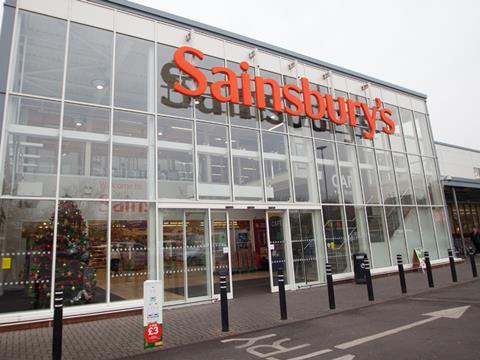 Sainsbury's has reported a 17.9% slump in underlying interim pre-tax profit to £308m in the 28 weeks to 26 September.
Although the worst half-year profit for years, trading was better than the City expected, which saw an initial hike in the share price before falling back by mid-morning to 264.30p – a drop of just over 3% on the opening price.
Group sales before VAT fell 2% from £12.7m to £12.4m during a period of food deflation, lower like-for-like volumes and at a time when shoppers spread their spend across multiple channels.
Like-for-likes, excluding fuel fell 1.6% and underlying pre-tax profit fell 17.9% to £308m. Pre-tax profit bounced back from a £290m loss (on the back of a £665m property writedown) to £339m profit.
Convenience stores, of which 37 opened during the 28 weeks to 26 September, delivered sales growth of nearly 11%.
Groceries sold online delivered sales growth of nearly 7%, with orders up nearly 14%.
The company opened a 1m sq ft general merchandise depot at the Daventry International Rail Freight terminal in support of the growth of its general merchandise business.
Sainsbury's said a £150m investment in price had helped drive transaction growth of almost 3% and volume growth of 1%.
The Taste the Difference range enjoyed 2% volume growth despite an almost 1% decline in overall food sales.
Mike Coupe, chief executive, said the company was making "good progress" against the strategy it outlined last November.
"We are delivering volume and transaction growth as customers value our quality improvements and our clearer, simpler message of lower regular prices.
"To complement our core food offer of great quality and inspiring food, sold at fair prices, we are delivering on our strategy to expand our non-food businesses with further growth in clothing, general merchandise and Sainsbury's Bank."
The company's strategy of investing to ensure customers could shop with it across multiple channels remained a strategic advantage, Coupe said.
"Shopping at Sainsbury's is now more convenient than ever for our customers and we are able to reward them for their loyalty.
"We continue to run the business efficiently and our cost savings programme is ahead of plan. We now expect savings of around £225mn by the end of this financial year and we are on track to deliver our target of £500 million cost savings over the next three years."
Coupe said Sainsbury's was looking forward to a successful Christmas, offering customers "fantastic products and great value".