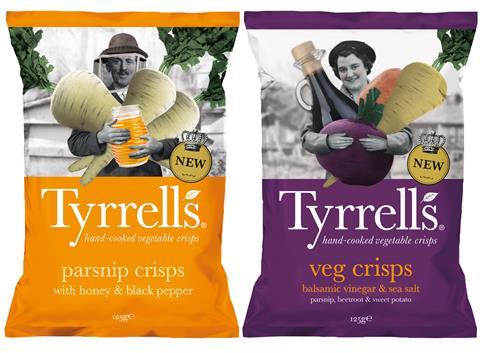 Tyrrells suffered a sharp drop in sales and profitability in the financial period that saw German snacks giant Intersnack snap up the crisps brand.
Newly filed Tyrrells accounts for the 65 weeks to 31 March 2019 show a 16% drop in sales to £53.1m despite a longer reporting period than its previous 52-week financial year.
Its fall in sales is partly attributed to the exit of a number of private label contracts, though the annual report also points to "deflationary consumer markets".
The slump in sales saw the brand, bought by Intersnack and integrated into KP Snacks in May 2018, plunge to a £6.3m operating loss, having posted an operating profit of £6m in the previous financial year.
However, its overall pre-tax loss of £9.8m represented an improvement from the £35.6m loss racked up in 2017 that was driven by a £43m writedown.
A KP Snacks spokesperson said: "Since KP's ownership from July 2018 the business has already started to turn around with growth in the core branded crisps business while investing in efficiency and automation within manufacturing and increased marketing support for the brand.
"The Tyrrells brand helped grow the value within the premium crisp category in 2019 and we are excited about continuing this in 2020, whilst managing a difficult harvest."
KP has sought to revamp the previously flagging Tyrrells brand by re-establishing its premium proposition. It revamped its range of Tyrrells vegetable crisps in September and has invested in packaging reductions.
The wider KP Snacks group, which released its annual results in September, posted a 9.1% rise in sales to £377m in 2018, with operating profits up 34% to £24.8m.
The accounts showed the group had taken a writedown of £36.2m on its Tyrrells acquisition during the year.
Intersnack's acquisition of the brand followed its ill-fated £300m sale to Amplify Snack Brands in mid-2016 before Amplify itself was bought by The Hershey Company.