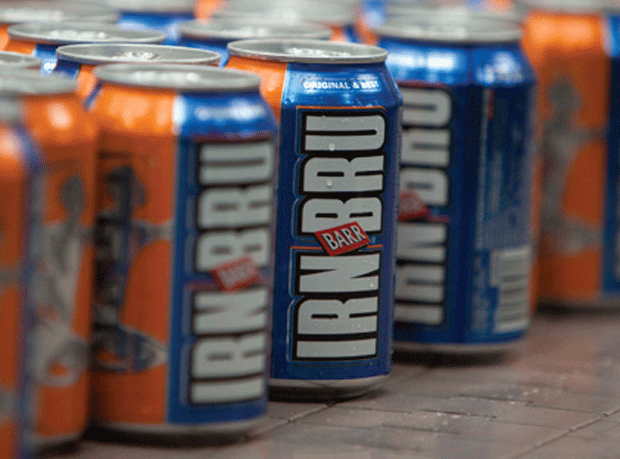 Irn-Bru maker AG Barr has revealed a 1.1% dip in sales for the first 15 weeks of its new financial year.
Excluding its divested Orangina brand and Findlays water coolers, sales edged down in the weeks since 26 January due to "a more normal sales phasing over the year compared to the strong first half performance in prior year sales".
AG Barr said the dip related to its sales outperformance last year in the run up to the Glasgow 2014 Commonwealth Games and its heavy marketing spend in relation to the event.
It also confirmed this morning that it plans to build further warehousing capacity as we continue to develop our Milton Keynes site.
This includes the acquisition of an additional 1.54 acres of land and the agreement to purchase a further 3.86 acres of land, adjacent to its existing site to give it additional expansion options. The total investment comes to £11m including £4m for the land for additional future expansion.
It said margins "continue to hold up well" as it continues to drive efficiency improvements across the business.
"We have a strong summer brand programme planned across all of our core brands and expect to see a return to sales growth in the second half of this financial year," it stated.
The Scottish drinks maker said it detected an improving UK macroeconomic environment, though that is balanced by a "competitive and volatile" retail market which continues to be competitive and volatile.
It added: "We are on course to meet our expectations for the full year despite the challenging conditions across the market."
Analysts at Investec AG Barr said the revenue drop was anticipated "given a weak market, tough Q1 comps and a different promotional timetable versus 2014".
Margins are holding up well and benefiting from improved manufacturing efficiencies. We expect stronger 2H revenue and make no changes to forecasts, target price or recommendation.
"The group will start to roll out its promotional/NPD activity later in Q2 and into Q3, covering the key summer months, and we would expect to see this reflected in a stronger second half revenue performance," the broker said.
Nevertheless, the shares were down by 2.4% to 607.8p in morning trading. AG Barr shares are down by just over 13% since hitting an annual high of 699.4p in early March.
Share Price: 610.00p

Change Today: -13.00p

Market Cap: £712.29m