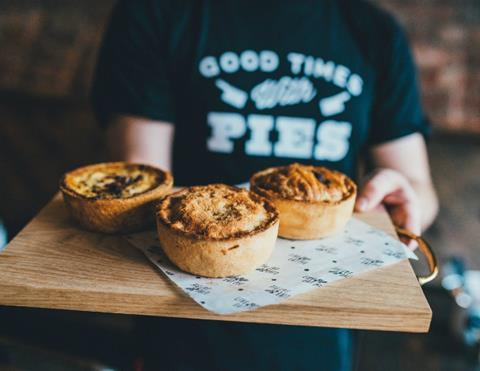 Pieminister returned to profitability in its last financial year as a 21% growth in sales helped the premium pie maker record a pre-tax profit of £99k.
Sales in the year to 31 March 2015 grew 21% to £9.2m from £7.6m in the previous year, which Pieminister put down to "sticking to the plan" through "difficult times".
The company said it had remained resolute in its focus to grow its presence within the fast casual dining sector and that strategy had driven a recovery from a pre-tax loss of £109k in the year to 31 March 2014 to a profit of £99k last year.
The opening of Pieminister Cardiff in spring 2014 took the number of Pieminister outlets to eight, while it opened its "flagship" restaurant in Leeds in spring 2015, which had been a "booming success".
Pieminister will open outlets in Nottingham and Bristol in the New Year and plans to open in more locations later in 2016.
"Pieminister is confident that the improvement in performance will continue into the next financial year and beyond," the company stated.
Pieminister founder and MD Jon Simon added: "We are very excited about the return to growth and profitability following our strategic decision to return to our roots as a unique restaurant proposition.
"Our new sites have delivered well above our expectations and the feedback from our customers has been very encouraging. 2016 will be a very exciting year for us with the opening of at least 5 new restaurants.
"In a very competitive sector we feel that we have developed a concept that is truly unique and have built a strong foundation with our operational team and systems to deliver strong and sustainable growth over the coming years."
The brand has stepped up its retail presence during the period, with a range of pastry-less Pie Pots launched in November 2014 and listed in Sainsbury's stores nationwide.
Autumn 2015 saw the introduction of new retail packaging and a significant increase in the distribution of Pieminister pies in Supermarkets.
Pieminister now features in 316 Waitrose branches and has lines in Wholefoods, Booths, Sainsbury's, The Co-operative and Tesco and online through Ocado.