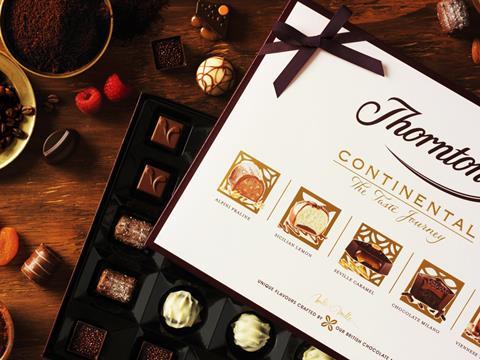 Chocolate retailer and supplier Thorntons has suffered a sharp drop in sales and an expansion of losses in its first full financial year under Ferrero ownership.

Newly filed accounts for Thorntons, which was taken over by Ferrero for £112m in August 2015, show sales dropped by 26.9% in the 12 months to 26 August 2017.

Total turnover fell from £191.3m to £139.8m as the company continued its "rebalance, revitalise and restore" strategy to shift towards branded sales and downsize its own retail operations.

Pre-tax losses almost doubled from £19.1m in its 2015/16 financial year to £37.5m in the most recent accounts, partly driven by £19.3m of one-off exceptional items.

Thorntons took a £16.7m charge in the year relating to lease charges on stores that are no longer trading or for which future trading is projected to be insufficient to cover these costs.

Costs related to shop closures were £1.6m, while there was a further £1.3m of business integration and restructuring costs.

As Thorntons shuttered a number of stores, overall employee numbers fell from 3,130 to 2,962, while staff costs fell from £55.7m to £53.8m.

The accounts stated: "The company will continue to accelerate management's 'rebalance, revitalise and restore' strategy of recent years, which will continue to evolve as the transition and integration into the Ferrero group progresses towards establishing Thorntons as an emerging FMCG brand with a strong UK multi-channel retail presence."

Operating loss as a percentage of turnover grew from 8.8% to 25%.

The overall Ferrero UK accounts for the same period published in June showed revenues at the Nutella manufacturer rose 31% from £292m to £383m during the first full year following its acquisition of Thorntons.

However, as sales grew profitability suffered, with pre-tax profits falling from £5.2m for the 2016 financial year to £500k for the most recent reporting period.
Ferrero decline to comment.