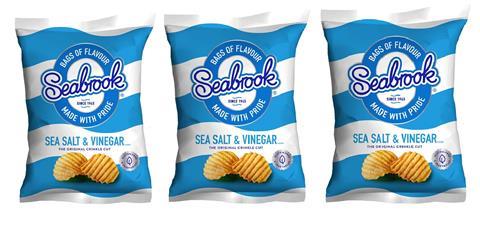 Sales and profits at Seabrook Crisps jumped during its first year under Japanese snacking giant Calbee.
Turnover amounted to £25.8m for the nine months to 30 December 2018, compared with sales of £30m in the 12-month period to April 2018.
On a pro-rata basis, the figures implied a 15% increase in revenue from what, over a 12-month period, would have been £34.4m.
The company changed its accounting period to align it with that of Calbee, which snapped up the Yorkshire-headquartered brand a year ago for an undisclosed sum.
The acquisition provided Seabrook with "a great platform" to deliver investment in its sites, capability and people, "accelerating brand growth", MD Daniel Woodwards said.
Pre-tax profits came in at £3.7m versus £4.7m in the previous 12 months, a 6% pro-rata increase.
The strong growth was underpinned by the full-benefit of own-label contract wins secured in 2017, Woodwards added.
"We have built our recent success on working closely with all our trade partners, aligning our respective strategies of providing excellent-quality crisps and snacks.
"We're excited about our plans for the future – for our business, our brand and our people."
Despite describing the UK crisps market as "highly competitive" with "aggressive pricing strategies and high level of promotional activity", Seabrook expected to achieve "strong sales growth" in 2019 on the back of further own-label contract wins.
"These contracts enable the company to make appropriate use of its assets, and to maximise efficiencies in production," the company explained.
However, the uncertain effect Brexit will have on consumer confidence was highlighted as one of the main risks to the business, which generated over 99% of its sales in the UK.