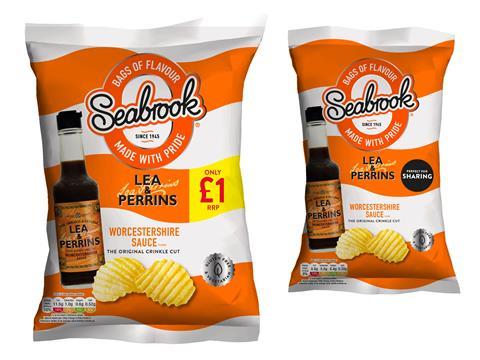 Increased demand for Seabrook Crisps has driven sales and profits higher at Calbee UK.
Newly filed accounts – the first to be consolidated since the Japanese snacking giant acquired Seabrook in 2018 and merged the brand with its UK operations – revealed 2020 turnover of £43.7m.
It represented a like-for-like rise of £2.9m for the consolidated businesses, while EBITDA increased £800k to £5.8m thanks to synergies between Calbee and Seabrook and a £5m investment in its Bradford and Deeside factories.
Brits spent an extra £442m on crisps, popcorn, nuts and other savoury snacks last year – a rise of 13.1% [Kantar 52 w/e 27 December 2020].
Calbee said Seabrook was growing faster than the overall category (up 25.8% [Kantar 52 w/e 16 May 2021]) and was now the largest crinkle cut crisp brand in the market and the second largest multipack crisp brand with 50 million packs sold in the past year.
Calbee also put Seabrook back on TV for the first time in 15 years, helping raise awareness for the Yorkshire-headquartered brand.
The Seabrook range was also expanded with the launch of 'Loaded Fries' and branded partnerships with the likes of Lea & Perrins to produce Worcestershire sauce flavoured crisps.
Calbee UK managing director Daniel Woodwards said it had been "an incredibly hard time" for all food manufacturers but he was proud of how the team had pulled together.
"There's no doubt the pandemic and Brexit has thrown up many challenges and continues to do so, from coping with fluctuations in demand to changing consumer habits and supply chain issues, but our strategic investments, a sound plan and a great team put us in a stronger position to compete."
Woodwards added the investment programme during the year had helped increase volumes at the factories, improve capabilities to allow further innovation and created a rise in demand for its products thanks to new marketing campaigns.
"This has helped us deliver a significant uplift in Seabrook Crisps, with a return to TV advertising for the first time in almost 15 years and it's enabled us to launch Harvest Snaps, a new plant-based brand that falls below the proposed government HFSS restrictions and can therefore still be merchandised in promotional display space when the new legislation comes into force next year."