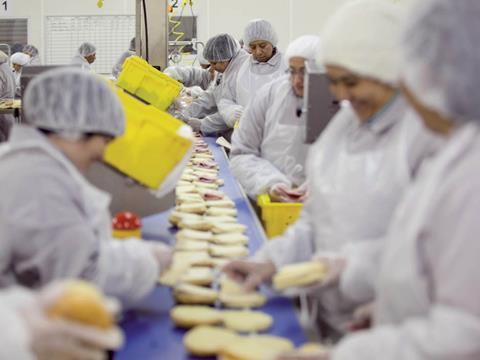 The latest government coronavirus restrictions are not having the same devastating effect on the food to go market as the spring lockdown did, according to UK sandwich giant Greencore.
Announcing its annual results this week, Greencore said sales had decreased far less dramatically since the advent of new tiered restrictions.
Food to go sales were down approximately 20% year on year in September, which only increased to a 22% drop in October as restrictions tightened, and a 26% decline in the current second lockdown period.
That contrasts with a 53% sales slump during the 13-week period encompassing the first UK-wide lockdowns, with Greencore's food to go sales falling by over 70% at the end of April.
"If you'd asked me two weeks ago how I thought food to go volumes would play out through this lockdown, I would have been more pessimistic than has turned out to be the case," said Greencore CEO Patrick Coveney.
"Despite the restrictions, you are seeing more mobility in this lockdown with parents taking kids to school, third-level studies continuing and somewhat more people physically going to work.
"People are still coming out of their homes and that's why you're seeing this quite strong residual volume in suburbs, market towns and villages for retail food to go."
As such, Greencore has kept all its production facilities operational, in contrast to the decision it took earlier in the year to temporarily suspend production at three facilities.
"We felt that with a four-week lockdown, we were better served by keeping our networks stood up so we can accelerate for a Christmas ramp-up when we come out of the other side," Coveney explained.
While he conceded the food to go market, which makes up more than 60% of group revenues, would take time to fully rebound even with encouraging news over possible vaccines, he said the group would remain "heavily weighted" towards food to go.
He suggested, rather than shifting sales away from the market, Greencore would broaden evolve its food to go offerings away from sandwiches to salads, chilled snacking and breakfast products while evolving its channels to include more vending, DTC and non-city centre retail outlets.
Greencore will also take on more coffee shop and café custom as it absorbs contracts from collapsed sandwich rival Adelie, which was a major player in food to go outside supermarkets.
Along with its full-year results this week, Greencore raised £90m from shareholders to bolster its balance sheet and to "make sure we have the resources to successfully ramp the business" when the Covid crisis eased.
Coveney said the group was keen to take advantage of temporary light-touch financing rules allowing companies to raise cash from shareholders quickly before the opportunity ended on 30 November.
"If we did not move now we would have been looking at a rights issue, which would take much longer, cost significantly more and potentially be much more dilutive to existing shareholders," he said.