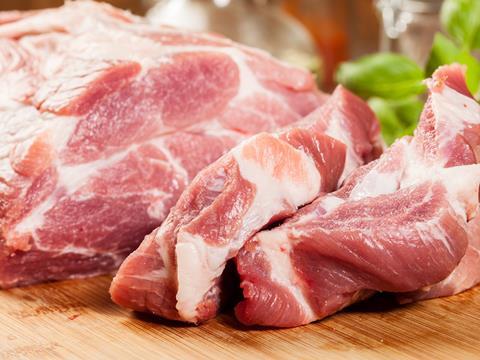 Top story
US meatpacking giant Tyson Foods has cut its 2019 earnings guidance due to "short-term challenges" it said were negatively affecting fourth-quarter earnings.
The US meat group cut its adjusted earnings guidance for fiscal 2019 to $5.30 to $5.70 a share, down from its previous projection of $5.75 to $6.10 a share
The challenges it faces include margin compression related to a reversal of a gain on mark to market grain derivatives recognised in its third quarter, commodity market volatility, implementation of enhanced food safety initiatives, a beef processing plant fire, and slower than expected operational improvements in chicken, it said.
The company, one of the world's largest protein suppliers, said it continued to monitor potentially adverse mark-to-market movements and other volatilities.
Noel White, Tyson Foods' president and chief executive, said: "The discrete challenges we've encountered this quarter now lead us to believe we will fall short of our previously stated guidance but our outlook for fiscal 2020 remains positive as we believe some of the challenges we're experiencing are not expected to repeat, and we're expecting more favourable market conditions as well.
White said the company's portfolio was "structurally sound" and generating strong sales volumes.
"Our volumes are strong in the back-to-school season while our case-ready beef and pork business continues to grow. Our international business is exceeding expectations as our legacy business outperforms the prior year and we continue to integrate Keystone and the newly acquired Thai and European assets."
White said Tyson's diversified portfolio was particularly suited to respond to what he described as dynamic and challenging market conditions, and the company continued to expect better performance in fiscal 2020.
"We're very optimistic about our long-term potential as we focus on prepared foods growth, international growth and serving our customers."
Morning update
Paula Vennells, a non-executive director of William Morrison Supermarkets (MRW), has added a non-executive directorship at Dunelm (DNLM) to her portfolio. She has also held senior commercial roles at Whitbread and Argos, among others.
On the markets this morning, the FTSE 100 rose 0.3% to 7,292,2pts.
Early risers include Marks and Spencer Group (MKS), up 2.4% to 191.3p – too late to avoid demotion from the FTSE 100.
DS Smith (SMDS), climbed 2.21% to 337p, following yesterday's trading up date. B&M European Value Retail (BME), picked up 2% to 353.8p, McBride (MCB) rose 1.7% to 51.5p, Ocado Group (OCD) shored up 1.6% at 1.366p and Stock Spirits Group (STCK), climbed 1.5% to 241p.
Fallers so far today include Science in Sport (SIS), down 0.9% to 52p, Diageo (DGE), down 0.6% to 3,604,5p, Cranswick (CWK), down 0.5% to 2.774p and Unilever, fell 0.3% to 5,310p.
Yesterday in the City
The FTSE 100 closed down 0.2% yesterday at 7,268.2pts.
Unilever (ULVR) announced the unexpected death of board member Mary Ma on 31 August, aged 66.
Chairman Marihn Dekkers said Ma had joined the Anglo-Dutch group in 2013 and served as a non-executive director.
He said she contributed strongly to the board, serving as a member of the audit committee and more recently the compensation committee.
"We will remember Mary as a wonderful friend and will miss her warmth of character and kindness of spirit.
"She was a highly capable and committed director who put her expertise and distinguished experience at the service of Unilever for many years," he said.
"We send our deepest sympathies to Mary's family, who are in all of our thoughts at this very sad time."
Fallers included McBride (MCB), down a hefty 6.3% to 50.6p, Premier Foods (PFD), off 5% at 32.1p, Devro (DVO) shed 4% at 185p, B&M European Value Retail (BME), dropped 2.9% to 346.9p and DS Smith (SMDS) fell 2.5% following yesterday morning's trading update.
Stocks on the up included AG Barr (BAG), which climbed a healthy 9.5% to 645p, Greencore Group (GNC) climbed 3.4% to 217p on the back of its purchase of Freshtime UK, Wynnstay Group (WYN) rose 2.5% to 312.5p, TATE & Lyle (TATE), climbed 2% to 747p and PZ Cussons (PZC), closed up 1.9% at 215p.