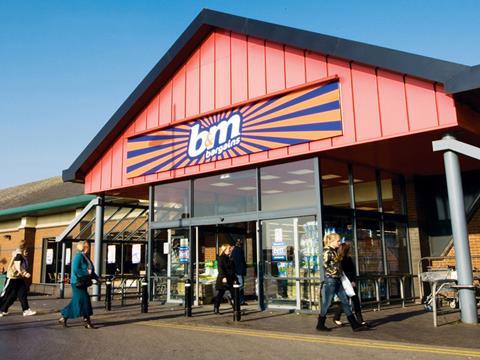 Top story
B&M Bargains owner B&M European Value Retail (BME) has delivered another "strong" annual performance with a double-digit rise in sales and underlying earnings.
Total group revenues were up 17.1% on a constant currency basis to £3.49bn in the year to 30 March driven by new store openings in the UK and international growth.
In the UK, B&M revenues increased by 8.7% to £2.8bn as it benefitted from 44 new net store openings in the year and the annualisation of its 39 net new store openings in the previous financial year.
In total it opened 54 new stores in the year, with ten closures, contributing £100.7m of sales in the period.
Like for like revenues grew by a more modest 0.7% compared to 4.7% growth in the previous financial year.
However, it said its grocery/fmcg performance remained "strong" as UK consumers "structurally continues to seek out value". Instead, homewares, which accounts for around 16% of revenues, had a "disappointing" year which pulled like-for-like growth back by 1.8 percentage points.
New homeware ranges have been introduced in the fourth quarter and have helped overall fourth quarter like-for-like revenues growing by 5.8% despite the headwind of the timing of Easter trading.
Overall Group adjusted EBITDA increased by 11.9% to £312.3m, with UK adjusted EBITDA up by 13.5% to £297m.
Group profit before tax increased by 8.7% to £249.4m.
Revenues at its convenience store business, Heron Foods grew to £354.1m from £210m in the previous period as it benefitted from an improved ambient food offer leveraging from the B&M supply chain and relationships.
It opened 20 gross Heron stores last year (net 16) and plans to open at least another 15 in the current financial year.
Its German business Jawoll saw 6.7% revenue growth to £213.7m, though margins reduced as it continued to clear old slow-moving stocks.
French business Babou, acquired in October 2018, grove revenues of £129.1m.
CEO Simon Arora commented: "B&M has again delivered strong results against the challenging backdrop of continued structural change in our industry, rising costs and uncertain times for consumers, demonstrating that its value credentials remain as resonant as ever with customers, whether they need a bargain or just enjoy one.
"We have made important progress in establishing platforms for further long term expansion in both Germany and France although there is much work to be done to implement the disruptive, value-led B&M model in these large new markets.
"We enter the new financial year with renewed trading momentum particularly in the UK, a high quality new store expansion programme in place, and investing in our new infrastructure to support future growth. I'm confident B&M is well-positioned to deliver further strong progress in the current year and beyond."
B&M shares are down 2.4% to 371p on the news this morning.
Morning update
Sucralose and sugar substitute producer Tate & Lyle (TATE) has posted "solid" financial results for the year to 31 March despite a drop in headline profits due to exceptional costs.
Total sales were up 2% to 2.8bn with progress in its food & beverage sollutions and sucralose businesses dragged back by weaker performance in primary products.
Food & Beverage Solutions sales were up 5% to £889m, Sucralose up 12% to £164m, but Primary Products fell 1% to £1.7bn.
Similarly, Food & Beverage Solutions delivered a 3% uplift in adjusted operating profit of £143m, Sucralose profit 11% higher to £61m due to stronger volume, while primary products' adjusted operating profit of £148m was 5% lower in sweeteners and starches due to inflationary headwinds.
Overall group statutory profit before tax 16% lower, largely due to exceptional costs of £58m relating to the restructuring of its business – notably the sale of its oats ingredients business.
CEO Nick Hampton commented: "I am encouraged by our progress over the past year. The group delivered solid financial results and we are starting to see real momentum from the three priorities I set out last year to sharpen the focus on our customers, accelerate portfolio development and simplify our business.
"In Food & Beverage Solutions top-line momentum continued with solid volume growth in North America and double-digit growth in Emerging Markets. Sucralose performed particularly strongly. Primary Products did well to deliver steady volume in the face of challenging market conditions. Across the business, strong cost discipline helped offset higher than expected input costs and operational execution was excellent, particularly during the extreme cold weather in the US in early 2019.
"For the year ending 31 March 2020, we expect continuing progress in Food & Beverage Solutions and gains from productivity initiatives to offset both lower Sucralose profits and continued market challenges in Primary Products. As a result we expect earnings per share growth in constant currency to be broadly flat to low-single digit."
Elsewhere, ahead of its AGM later this morning Bakkavor has released a trading statement saying that performance in the early part of its financial year has been in line with expectations despite subdued consumer confidence and inflationary pressures.
The group is performing broadly in line with 2018, with full year guidance remaining unchanged.
Bakkavor said it continues to invest for the long-term – notably with its recent acquisition of Blueberry Foods –maintaining its focus on protecting margins, having closed its loss-making Freshcook at the end of April.
It said demand is strong in its international markets, with its US and China businesses structured for long-term growth.
In the UK, despite current market challenges it remains confidence its scale and strategy "leaves us well placed to capitalise on future growth opportunities".
On the markets this morning, the FTSE 100 is down 0.7% to 7,284.8pts.
Risers include Mitchells & Butlers (MAB), up 6% to 257p, Pets at Home (PETS), up 3.1% to 173.7p, Majestic Wine (WINE), up 2.2% to 296.3p and Bakkavor, up 2% to 124.2p.
Fallers so far include Morrisons (MRW), down 5% to 199p, Just Eat (JE), down 3% to 607.8p, Tate & Lyle, down 2.9% to 769.2p and Cranswick (CWK), down 2.4% to 2,786p.
Yesterday in the City
Despite yet more political chaos in the UK, the FTSE 100 ended the day edging up 0.1% to 7,334.1pts yesterday.
However, Marks & Spencer had a torrid day, dropping 9.4% back to 245.8p despite announcing financial results largely in line with expectations as adjusted profits slid back 10% and sales dropped 3%. Shares were down on a 26% cut to shareholder dividends and details of its more deeply than expected discounted rights issue to fund its Ocado joint venture.
As speculation over the position of Prime Minister Theresa May continues to mount, the weakness in the pound boosted a number of UK-listed global stocks. Coca-Cola HBC jumped 3.1% to 2,854p, Unilever (ULVR) rose 2.2% to 4,857p and Reckitt Benckiser (RB) was up 2% to 6,391p.
Those more reliant on UK consumers had a tougher day. Sainsbury's (SBRY) dropped 3.7% to 199.4p, Greggs (GRG) was down 3.6% to 2,102p, Tesco (TSCO), fell 1.8% to 232.7p and M&S partner Ocado (OCDO) was down 1.7% to 1,227p
Other fallers included Hilton Food Group (HFG), down 6.4% to 1,018p, Bakkavor (BAKK), down 2.1% to 121.8p and Premier Foods (PFD), down 1.9% to 36.8p.
C&C Group (CCR) jumped 4.2% to €3.75 after reporting a "transformational year" thanks to the acquisition of Matthew Clark and Bibendum, while Pets at Home (PETS) was up 13.9% to 168.5p after better than expected full year results.
Other risers included Greencore (GNC), up 2% to 220.3p, Majestic Wine (WINE), up 3.6% to 290p and DS Smith (SMDS), up 3.8% to 333.1p.