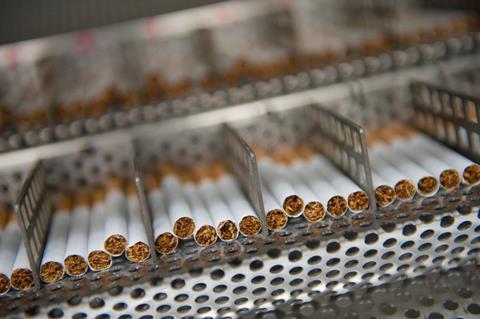 British American Tobacco saw first half headline revenues decline by 10% after being hit by adverse exchange rate movements.
Revenues for the first six months of the year dropped to £6.8bn from £7.6bn during the same period in 2013, though on a constant currency basis group revenue rose 3%.
Similarly, adjusted profit from operations fell by 9% to 2.7bn, but rose by 4% on a constant currency basis.
Chairman Richard Burrows said: "British American Tobacco performed well during the first half of the year but, as expected, results were affected by the strength of sterling."
BAT's cigarette volumes slipped by 0.4%, while total tobacco volumes (including cigarettes) were 0.5% lower.
However, BAT said it cigarette market share continued to increase in its key markets, led by good market share growth of its key 'global drive brands', which grew volume by 5.7%.
BAT also announced a 6% rise of its interim dividend per share to 47.5p.
Burrows added: "We are consistently increasing our market share, driven by the strong growth of our global drive brands. Tight control of costs resulted in an improved operating margin. We remain confident of high single-digit earnings growth at constant rates of exchange, which we have said we will recognise with an increase in the dividend."
Analysts at Jefferies said: "We read the H1 as in line on earnings and performance overall as solid. Top line dynamics are per our forecasts with global volumes on an improving trend. Better pricing, a slightly easier volume comp, tight cost control and less adverse fx seem likely to deliver a sweeter H2."
In the UK, BAT said that overall industry volume declined significantly, but that a strong performance by Rothmans led to an increase in market share.
BAT shares slipped by 0.8% to 3,538p in early trading, but have risen by over 10% year-to-date.