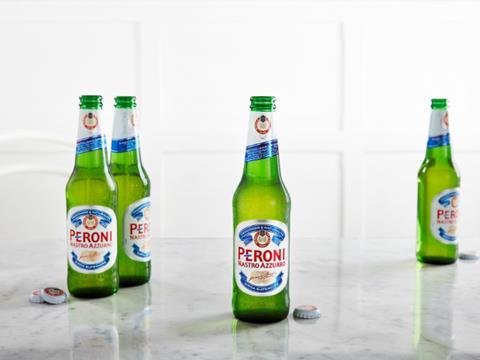 SABMiller's (SAB) UK and Ireland subsidiary Miller Brands UK saw net producer revenues rise by 5% last year as UK appetite for "super premium" brands Peroni Nastro Azzurro and Pilsner Urquell grew.
As the wider SABMiller announced its annual results this morning, Miller Brands UK has reported 5% net producer revenue growth during the 12 months ended 31 March 2016.
MBUK imports Peroni Nastro Azzurro from Italy and Pilsner Urquell and Kozel from the Czech Republic, with all three brands achieving double-digit volume growth during the year.
Gary Haigh, MD of Miller Brands UK, told The Grocer the brands had also seen double-digit off-trade growth during period, largely through the major supermarkets but also "over-trading" in the convenience sector and online.
"One of the most exciting things is that we're seeing premium convenience emerging as a category. Some of the big retailers and independents are doing a really nice job on the whole convenience proposition and in those outlets we're over-trading," Haigh said.
He added: "Over the last 10 years, we have been changing the way people think about beer.
"We have already seen the growth of super-premium spirits and now beer is heading in the same direction as consumers seek genuine, authentic taste and a story behind their beer. As we progress from world beer into a new era of high growth super-premium beer, we are immensely proud that Peroni Nastro Azzurro continues to spearhead this change."
MBUK added that is saw growth of 22% in Ireland this year, making the country the fourth largest Peroni Nastro Azzurro market in the world.
The European Peroni brand in the UK, along with Dutch brand Grolsch and UK craft beer Meantime, are amongst the assets slated to be sold off as part of AB InBev's acquisition of SABMiller.
Japanese brewing firm Asahi agreed to acquire Peroni, Grolsch and Meantime and the operating units in the UK, the Netherlands and Italy for £2bn in April on completion of the AB InBev/SABMiller deal, which is expected to be finalised in the second half of the year.
Haigh told The Grocer it had been business as usual at MBUK in regards to the likely transfer of ownership to Asahi.
"Our shareholder will continue to be the brand owner for the Peroni brand," he said. "It's business as usual. We haven't had to do much planning on what may or may not happen."
"What's been useful for us is that in August last year we completed a three-year commercial plan for the business. So it's been simple to say to the wider organisation that we'll continue to execute the plan we agreed back in August in terms of commercial plans, marketing and staffing levels and at whatever stage the trademark owner changes we'll have a discussion with the new owner on how they'd like to handle the brands in the UK."
There is a question mark over the ownership of Pilsner Urquell and Kozel in the UK as AB InBev has put SABMiller's Eastern European brewing business up for sale, but that process will only kick-off once the takeover is complete.
SABMiller has publicly come out as a supporter of the UK remaining in the European Union and Haigh agreed staying in the EU was preferable for his UK & Ireland business.
"We import all our products and we have exchange rate exposure in the business, so the speculation which has affected the pound has not helped us particularly," he said. "If the UK were to exit it wouldn't be the end of the world, but we'd probably have to end up re-working a number of our processes and there would probably be more bureaucracy than we currently have."
The wider SABMiller this morning was also hit by exchange rate fluctuations – particularly in relation to a number of currencies falling against the US dollar – with headline revenues falling 10% to $19.8bn during the year.
Group net producer revenue (NPR) was also down 8% to $24.1bn on a reported basis in the year, while pre-tax profits at the brewer also slipped 16% to $4.1bn as the business was hit by exceptional charges of $721m because of costs associated with the ongoing AB InBev merger and the write-off of investments in Angola and South Sudan.
However, on an organic constant currency basis, SAB managed to increase revenue 7% and NPR by 5%, with EBITA (earnings before interest, tax and amortisation) up 8% to $5.8bn.
CEO Alan Clark told journalists this morning the "very good" set of results represented SABMiller "going out on a high" in what he said would most likely be the company's last annual results as an independent company.
"Achieving these results this year, notwithstanding economic and currency volatility and the distraction of the AB InBev offer, is a testament to the dedication and hard work of our people."