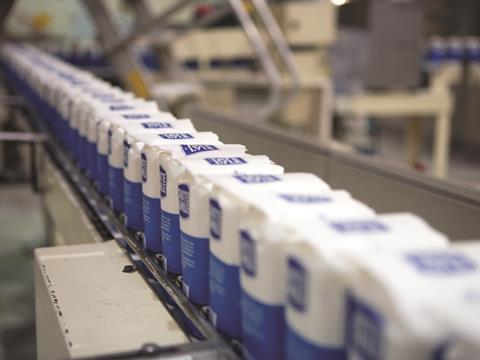 Brexit backer Tate & Lyle Sugars has blamed the 'uncompetitive' European Union sugar regime for annual losses that have ballooned to more than £25m.
The US-owned sugar group, one of the few companies to openly back the 2016 campaign for the UK to leave the EU, saw its annual pre-tax loss jump from €4.6m to €28.4m (£25.1m) in the year to 24 September 2017 as the ending of EU sugar quotas exacerbated its struggles in the UK.
The company is a subsidiary of ASR Group (American Sugar Refining), one of the world's largest processors of refined sugar.
It has long argued that the EU unfairly discriminates against refiners of cane sugar while subsidising rival sugar beet producers across Europe.
The accounts state that EU policies have had a "significant negative impact" on its financial performance due to the "inequitable European regulatory environment".
It argues the EU inflates the import cost of raw cane sugar used by its UK-based factories by limiting the number of suppliers it can purchase from to 5% of sugar sold in global trade and charging additional import duties.
Meanwhile, it pays financial subsidies to sugar beet producers and the removal of quotas in October 2017 has further skewed the market and increased supply.
It said the EU had made only "limited moves" to reform its cane sugar imports policy, including enabling the purchase of "small volumes" from South Africa.
T&L Sugars did grow revenues by 3.9% to €326.6m during the year, but stressed selling prices were not directly related to the cost of its primary raw material.
"These EU policies make the company uncompetitive," the accounts state. "The company continues to believe a more equitable framework will be implemented following the conclusion of the UK's exit from the EU."
The company has created a section of its website headlined 'golden opportunity', with Brexit potentially generating a shift from "downsizing and job losses to growth and more investment".
In 2015, EU policies inflated Tate & Lyle Sugar's raw cane sugar bill by £34m and have underpinned a 50% downsizing at its London refinery since 2009.
In February, CEO Gerald Mason told the Environment, Food and Rural Affairs Committee the UK "has the opportunity to go back from being a net importer of sugar to being an important net exporter of sugar".
"What the European rules do is take away choice. Any normal business would have a choice over who it buys its raw material from… This is a great opportunity to have a sugar market in the UK that reflects the UK's interests."
Tate & Lyle has not made a profit in the UK since its 2012/13 financial year.
Its €4.6m pre-tax loss last year was softened by a one-off gain of around €31m related to historic losses.
Total sales have almost halved since the 2011/2012 financial year when it posted turnover of £520m.
Average headcount rose last year from 581 to 611 employees, though total employee costs fell 1.1% to €42.7m.