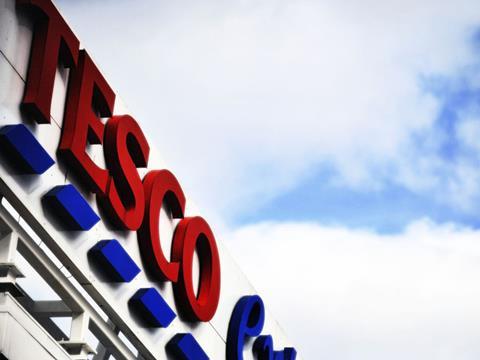 Tesco boss Dave Lewis today hailed a strong fightback by the retailer, driven by what he claimed was "the best customer service in many years" and price cuts that had made it more competitive with the discounters.
Tesco recorded like-for-like UK growth of 1.3% in the six weeks to 9 January, with volumes up 3.5% year on year.
Despite a Q3 fall of 1.5%, Tesco beat expectations in the City, with analysts heaping praise on Lewis' turnaround strategy, based on reduced vouchering, improved availability and everyday lower prices, as well as the focus on service.
There was also good news for Tesco's biggest stores, which despite still seeing like-for-like sales falls over the quarter were in positive growth over Christmas, with Lewis saying the performance proved they could no longer be viewed as "dinosaurs".
Lewis said the key reason for the improved results was a "material improvement" in store experience, which had seen "very high levels of availability and service".
He said availability over Christmas was 4% higher in Tesco than 12 months earlier, reflecting improvements in the way the business and its distribution to stores was being run "under the hood."
Customers had recorded a 3%-5% improvement in customer satisfaction over Christmas, he said, helped by 86,000 extra hours being put into staffing stores over Christmas.
Lewis also claimed Tesco had successfully fought back on price and was 5% cheaper than last year on key Christmas items, with overall prices down 2.0%-2.5%.
The Tesco boss said he was determined to continue steering the retailer away from "unsustainable" couponing, with nearly two thirds of the 1.5% third-quarter drop caused by Tesco not repeating three '£5 off £40' national campaigns from the previous year.
And in a thinly veiled dig at troubled rival Asda's announcement of £500m being thrown at price cuts, Lewis said: "We don't talk in headlines of hundreds of millions."
Instead he said savings from the ongoing Project Reset, which is seeing a major rationalisation of Tesco's product range and cheaper prices from suppliers, would be ploughed into sustainable ongoing price cuts as and when the savings were freed up.
Although their growth was comfortably outstripped by Tesco's smaller stores, Lewis also said the results contained good news for Tesco Extra stores, with positive like-for-likes over Christmas and a reduced rate of sales.
"When I first started, the Extra format was declining by 7.5% [in sales]. They are not completely fixed and there is more for us to do, but the idea that somehow these big stores are a liability and some kind of dinosaur is clearly not the case," he said. "We're seeing people appreciate the fact they can get everything under one roof and that it's the most convenient way of shopping."
Lewis was more guarded when it came to Tesco's online growth, which was often at the fore at results time under his predecessor Philip Clarke.
Today's official announcement contained no mention at all of online.
Lewis told The Grocer Tesco was being "economically more sensible" and "pricing in" the cost of service for online, which aims to make it more sustainable.
Tesco has recently ramped up charges for online deliveries and non-food click & collect services.
Meanwhile Tesco's international like-for-like sales grew 4.1% over Christmas and 2.9% over the quarter.