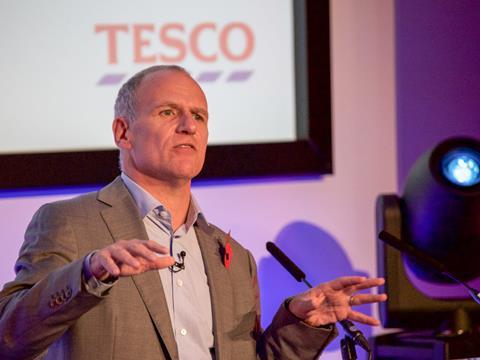 Tesco (TSCO) CEO Dave Lewis is well on the way to reawakening the power of the once dominant retail behemoth as the supermarket exceeded lofty financial expectations this week.
On Wednesday Tesco beat analyst expectations to deliver a 29% surge in pre-tax profits, which was driven by Drastic Dave's cost cutting as well as group-wide sales growth. Pre-tax profits jumped to £1.7bn for the year to 23 February 2019 on the back of £532m in cost savings, while group sales increased 11.5% to £56.9bn as the supermarket was buoyed by the continued strong growth of Booker.
Analysts at HSBC said the results suggested Tesco's darker days are now firmly in the past. "Tesco is in its best position in a decade. The UK consumer, supplier and employee surveys all show momentum and improving margins, while cash sales growth is the best in the industry."
Margins still well short of Tesco's glory days and unlikely to be clawed back to that level, but Tesco is now in a better position to fight off the threats of the discounters. Hargreaves Lansdown noted that margins look set to meet Lewis margin target of around 4% in the coming financial year. "That may be lower than the 6% of so enjoyed before 2013, but reflects the leaner pickings from the sector, thanks to the arrival of Aldi and Lidl."
Tesco's share price plummeted in November after it revealed weakens in its international business, primarily borne of struggles in Thailand, in its half year results. These issues also appear to have been reversed in the second half, with improved purchasing conditions and successful restructuring in Thailand helping improve overall trading in Europe and Asia.
The results were not necessarily unrelentingly positive, however, with analysts at Société Générale arguing its core UK performance was "quite disappointing on closer inspection". The broker pointed to margin erosion at Booker despite its stellar 11% like for like sales growth and weaker margin growth than expected in the UK once the one-off items were stripped out.
Shore Capital agreed 2018/19 was a "productive year, but not a bed of roses" for the supermarket noting stronger comparatives and wider challenges remain. However, the broker noted: "If the UK CMA does kill off the attempted merger of Sainsbury-Asda then the mood music around Tesco UK from investors may be better than could have reasonably been expected."
Tesco shares rose 3.6% on Wednesday to 242.3p and are now up almost 30% since recording a year-low of 187.1p before the turn of the year. However, the stock remains well below its August high of 266.8p and are only up 1.2% since the release of its previous financial results a year ago.