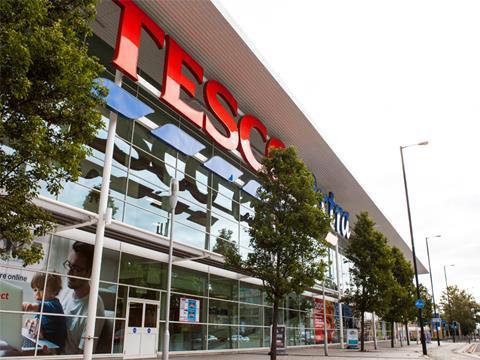 What is at the centre of the latest crisis to hit Tesco?
Tesco shocked the City this morning by revealing that it may have overstated its first half profits by as much as £250m. The problem was principally due to the "accelerated recognition of commercial income and delayed accrual of costs" and it has launched an enquiry into the issue. Tesco issued a profits warning at the end of August, guiding that profits for the six months to August 23 were expected to be around £1.1bn – now Tesco has discovered that figure was 22.5% too high. As a result, it is delaying the publication of its interim results so it can further investigate the problem. Tesco's interims were due on 1 October and will now be released on 23 October.
Read more on Tesco.
What has been the immediate fallout?
Tesco's shares plunged 11.8% in early trading to an 11-year low of 202.5p before finding some support to stage a mini-rally by late morning. By mid-afternoon the shares were trading at 207.1p – 9.8% down since Friday's closing price of 229.6p. Four UK executives have been placed on annual leave as a result of today's events – these are believed to be Chris Bush, UK MD, John Scouler, Tesco's food commercial director, UK finance director Carl Rogberg, and Matt Simister, the head of food sourcing.
What has Tesco said?
Tesco stated this morning: "Work is ongoing to establish the extent of these issues and what impact they will have on the full year." Dave Lewis talked of taking "decisive action as the results of the investigation become clear", but the supermarket remains reluctant to get into the nuts and bolts at this stage. Tesco held calls with analysts and journalists this morning, but both were light on details – including the identity of the suspended UK execs or a breakdown of the £250m. Tesco did confirm that Robin Terrell is now running the UK business on a temporary basis.
How has this come to light?
Details of just what's gone on remain fairly scant, but Tesco did say that an employee raised concerns to the firm's general counsel. Tesco said it found out about the accounting issue on Friday. The error was picked up as Tesco prepared its interim results, due to be announced on 1 October.
Is there any suggestion of wrongdoing?
Tesco was keen to downplay the notion that this is represents anything more significant than an error. On the other hand, Tesco has asked Deloitte to undertake an independent and comprehensive review of the issues and notified the Financial Conduct Authority of the problem. It's really too early to say what the precise nature of the accounting "error" is until Tesco releases the details.
How could the error have occurred in the first place?
Supermarkets taking money from suppliers related to promotions or product positioning is standard practice – the issue here is when Tesco is incorporating that supplier income, with the suggestion being that a huge chunk has been used to prop up first half figures that should have come in the second half.
"Pre-booking" in revenues is a little bit of an accounting grey area. There is certainly an extent to which such a practice is fairly normal accounting practice – looking to "smooth" revenues across the year to ensure consistency and avoid quarterly jumps up and down of income is universally accepted. It may well be that a company with declining sales will look to manipulate commercial revenues to smooth a gradual decline of revenue/profit rather than record a very sudden drop. Whether Tesco's treatment of its commercial income sits within normal accounting practices or is something more serious really depends on detail – something that's notably lacking at the moment.
Mike Dennis at Cantor suggests that such issues are nothing new at the retailer. Last year the broker questioned how Tesco was supporting 5.2% UK trading margins while its sales were falling and costs were rising. "We believed Tesco had been over stating its UK commercial gross profit by £200m+ p.a. via deducting monies from suppliers' trading accounts or extending payment dates without notice." Tesco declined to comment on this suggestion this morning.
What happens next?
The first thing is that Tesco – having revealed this to the market – needs to quickly fill in the gaps on exactly what's gone on and the scale of the problem. Tesco's postponement of its interim results means that the company should be in a position to reveal more on the issue on October 23.
Given the events today it does appear clear that Tesco's first half performance will officially be downgraded to a significant degree. This will inevitably have a big impact on not just the interim results, but the full-year numbers too. In simple terms, things will get worse before they get better.
But there's also a feeling that it could be in Tesco's best interests to shine a light on just how bad the current performance is so that subsequent numbers are measured against rock bottom comparables. Here we get into another grey area – to what extent are today's issues a complete shock to everyone at Tesco or are they better seen as part of a bigger kitchen sinking exercise to re-base profits and accounting treatments to allow Dave Lewis to start afresh with a clean slate?
Bernstein analyst Bruno Monteyne has flagged up the latter scenario before. Today he wrote: "Although we fully expect the short term sentiment to drive the stock down, this is in line with our view on what needs to be done… We had mentioned the need to clean up the accounts and change the culture. By doing so this quickly, Dave Lewis should gain credibility with the investment community; although we may be giving him more credit than is due – an accounting irregularity equal to at least 37% of UK trading profit likely could not have waited."
What is the impact on new CEO Dave Lewis?
No CEO wants to see £1.6bn wiped off their company's market value after just a few days in the job.
HSBC Analyst David McCarthy sees it as an early blow of Lewis. He said today: "Confidence in Tesco has been undermined again, downwards momentum is accelerating, and it is unclear whether the real underlying level of profits has yet been found and to what extent the new CEO may choose to re-base profits. Indeed, rather than working on a repositioning, the CEO currently has another (major) fire to put out."
It does mean that the negative headlines on Tesco will only escalate and Lewis' next few months will centre of dealing with the fallout rather than being afforded the luxury of time to consider strategic changes. But, as mentioned above, in the long-run it could work in Lewis' favour. Like Justin King at Sainsbury's, coming in on the back of disastrous performance gives the new man the complete autonomy to make radical changes. The worse Tesco's current trading is, the easier the 2015 comparatives under Lewis will be to be able to show progress.
What about the rest of Tesco's leadership?
Lewis has already talked of concentrating on Tesco's core market – meaning that changes to the UK leadership team were already expected. Today's events certainly don't make wholesale changes look any more unlikely.
The big question now centres on the make-up of the Tesco board. Under Philip Clarke the Tesco board had morphed into there being just two executive directors – Clarke himself and FD Laurie McIlwee (the strength of Tesco's exec board with further eroded by McIlwee's resignation in April). Clarke and non-exec chairman Sir Richard Broadbent denied Tesco had a problem with governance. Today's revelations will mean tough questions being asked about the make-up of the non-exec heavy board and the effectiveness of its corporate oversight. Broadbent said today he will not resign, but Shore Capital's Clive Black called his position "untenable".
Will this mean changes to Tesco's future strategy?
It's unlikely Tesco will be in a position to reveal a great amount about strategy until the post-Christmas period of 2015, given that incoming FD Alan Stewart only starts on 1 December and a strategy shift is unlikely during the vital festive trading period.
Today's announcement certainly backs-up those who thing a significant margin reset is on the way, given the primary reason for today's accounting issues is to protect Tesco's industry leading margins in the eyes of the City. Expect, then, the kitchen sinking to continue and the numbers to get worse over the next couple of trading updates before the focus shifts to making them better.
More specifically, the revenue shortfall – and we don't yet know how significant it is – could mean that Tesco needs to raise cash to shore up its balance sheet (it has already suffered a wave of downgrades from the rating agencies this year). A number of analysts are now predicting that Tesco may look to sell-off or exit a number of non-core and international businesses.