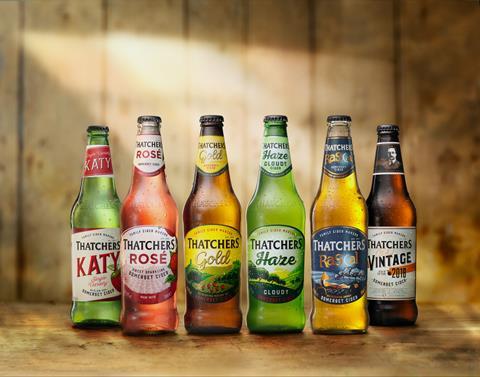 Cidermaker Thatchers "outperformed" the wider market last year as its annual sales continued past £100m and profits grew.
The Somerset-based producer grew market share to propel sales to £106.6m in the year to 31 August 2019, up 5.8% from £100.7m in the previous financial year.
Operating profits nudged up to £11.9m from £9.3m despite an increased headcount, up to 284 from 252
The company also invested a further £18m in its production facilities during the period, rising from investment of £4m in the previous year.
"Investing in our brands is crucial for the continued success of the company," said MD Martin Thatcher. "It encourages innovation and fresh thinking, something we are exceptionally proud of."
The company has seen continued off-trade growth through the lockdown period, helped by the launch of Thatchers Cloudy Lemon this year and Thatcher Rosé, which was the most successful new apple cider launch of 2019.
"Thanks to the huge contribution of our staff, we have been able to maintain and increase the supply of our ciders through retail distribution during this time," Thatcher added. "There has been extreme pressure put on the off trade during the lockdown, but the major multiples and the convenience sector have risen to the challenge."
The Grocer's Top Products report found that Thatchers Gold was one of only two of the top six cider brands to increase its sales in 2019.
Thatchers also launched its first non-alcoholic cider, Thatchers Zero, earlier this year.