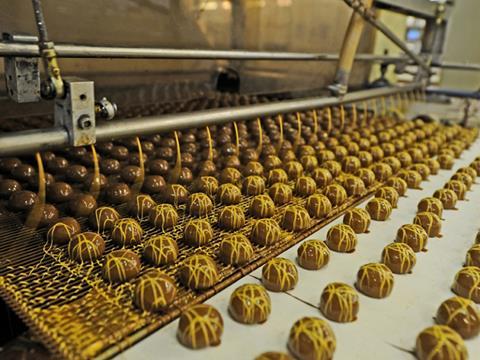 Chocolatier Thorntons (THT) has reported a 10% fall in first half profits after seeing a double-digit fall in UK commercial sales due to an "unanticipated" plunge in sales to two major grocers.
Pre-tax profit for the six months to 10 January collapsed to £6.5m from £7.2m in the same period last year, driven by an 11.2% fall in fmcg sales including a 12.4% fall in UK commercial sales.
Thorntons said this plunge in commercial sales was primarily down to "an unexpected reduction in previously indicated orders from two of our major grocery accounts" where last year's selling space given to high-volume lines was not repeated. This meant that its share of the Christmas chocolate market declined from 8.4% to 7.4%.
Despite this, Thorntons said it increased sales in many of its grocery, conveneience and high street accounts. "Analysis of Nielsen data shows that grocers that supported Thorntons during the period performed better in the Total Boxed Chocolate category," the company stated. "As such we are confident that this issue reflects the need to improve our commercial relationship with these two grocers and is not a reflection on shopper demand or regard for the Thorntons brand, which remains strong and growing."
However, Thorntons did warn that the weakness in its UK commercial arm would continue into the second half. "The difficult trading conditions in our UK Commercial sales have persisted into the second half," the company stated. "Ahead of our key spring seasons, we continue to be cautious in our expectations for the full year."
Total revenues were 8.2% down year-on-year to £128.2m after the company saw like-for-like growth in its shrinking retail business.
Its retail division saw 2.2% like-for-like growth, though total revenues fell from £69.1m to £65.5m during the period at it continues to close stores.
During the year it closed 16 stores (relocating three of them), mainly in line with lease expiry. It expects to close approximately 20 stores during the financial year and eventually bring its store estate down to 180-200 stores from the current level of 247.
International sales grew by 19.9% to £5.4m, driven by strong growth in the US.
The firm this morning admitted that overall performance of the business was "disappointing", but it insisted its drive to shift Thorntons from a retail-driven business to focus on becoming an fmcg supplier remains "demonstrably correct and our previous results have evidenced this".
Thorntons also pledged to continue to search for cost efficiencies to mitigate the tough UK trading conditions.
"The performance of our business in the first half was not as we planned; nevertheless it demonstrates management's agility in controlling and managing costs and activities. As we continue with the transformation of the business, so we seek further efficiencies… we anticipate that this process will deliver meaningful cost-efficiencies in the next financial year, albeit with some associated one-off costs of change."
Thorntons' shares opened 7.4% lower at 67.6p this morning, but soon recovered to trade 3.5% down at 70.4p. The shares have lost 40% of their value since its pre-Christmas profit warning and they are trading 55% down year-on-year.
Investec analyst Nicola Mallard said it was "disappointing" to see the numbers step back after two years of good progress. "Confidence has been impacted, but this should recover when the market feels assured of a return to growth in fmcg, although this might only arise next year, given marked seasonality."
The firm has trimmed its full year forecasts by 10% and moved its target price for the stock down from 94p to 91p but emphasised that it was presented undervalued.
"There are few stocks cheaper than this in consumer space, even for private label companies," Mallard added. "The market has lost confidence, but for those looking for undervalued stocks, we believe, Thorntons should stand out. If the company can deliver to plan, it offers significant re-rating potential."