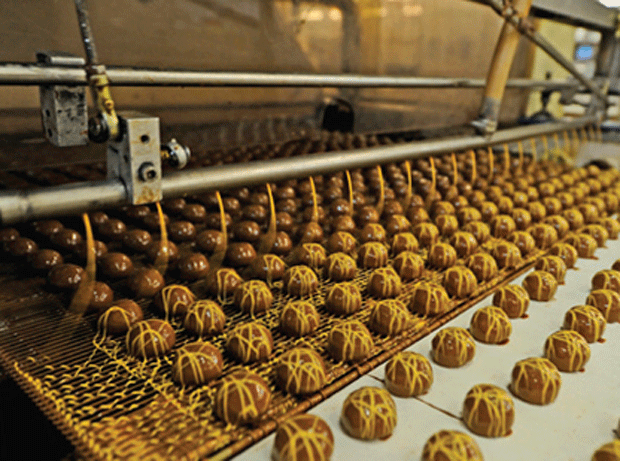 Thorntons has announced a 60.4% increase in full-year profits as it pledged to grow its global business to rebalance the company away from retail and become an international fmcg firm.
Profit before tax and exceptional items for the year to 28 June 2014 was ahead of expectations at £7.5m, compared to £4.7m in the previous year. That profit growth was achieved on a small rise in revenue, which grew 0.6% to £222.4m.
Thorntons said its improved profitability was a result of its strategy to move away from high-street retail and towards becoming an fmcg company with a multichannel retail presence.
The chocolatier's fmcg division grew revenues by 7.8% to £111m, while its retail business declined by 0.8%, though it grew like-for-like sales by 1.1%.
"We are pleased with these results which indicate continued strong recovery in our profitability and are testament to the strategy we put in place just over three years ago," said Thorntons CEO Jonathan Hart. "The challenging environment and subdued consumer sentiment make our progress all the more notable."
Own-store total sales declined by 7.4% to £94.9m as a result of the company's continuing store closure programme. A total of 39 stores were closed during the year, with two of these re-sited and one new store opened – resulting in a net store decline of 36. The company now has 260 stores.
Fmcg sales now make up around half of Thorntons' total sales and the company expects this proportion to increase. UK commercial sales were its largest channel last year, increasing by 9.7% to £99.4m.
International sales grew by 4.9% to £6.4m, which represents just 2.9% of total revenue. However, the company pledged to boost international sales over the coming years.
"Over the next three years, we will see the more prominent emergence of international sales as a contributor to the business," Thorntons said. "In the long term, we expect International to be a significant driver of growth. Our careful and structured approach to this opportunity remains key."
Volatility
Thorntons also warned that the focus on fmcg revenues could cause quarter-to-quarter performance volatility as it becomes more reliant on the demands of its UK commercial customers.
The company said this would result in a weaker performance in the first quarter.
Hart explained: "As we continue to grow our fmcg business, the timing of orders will increasingly cause fluctuations in our quarterly reported sales figures without necessarily affecting overall annual performance, as the past year has shown.
"We anticipate further growth in our UK Commercial channel during the first half of the current financial year. However, we expect this to be at a more modest level as a result of strong prior-year comparatives, the continually changing marketplace and a marked reduction in the first quarter."