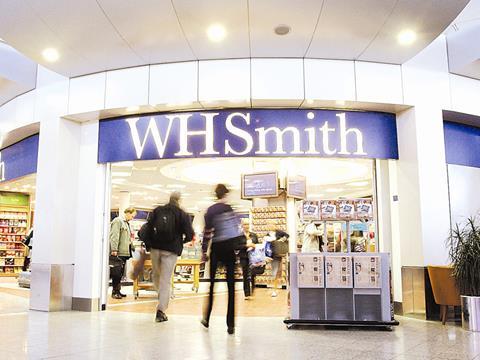 Top story
Strong growth in WH Smith's (SMWH) travel arm has offset a sales decline across the retailer's high street estate.
Total sales for the 20 weeks to 19 January rose 6%, with the recently acquired US travel retailer InMotion contributing around 3% of growth.
Like-for-like sales for the period, however, remained flat as it was impacted by a 2% slide in like-for-like high street sales.
The travel division reported a 16% increase in sales, of which 8% came from the US business acquired in the autumn.
On the back of sales growth among its 400-strong travel retail portfolio, gross margins increased and the group said it is on track to deliver £9m of cost savings.
The retailer's store opening programme in the UK is "on track" and will see it open another 20 stores in 2019.
Sales were particularly strong in Christmas cards, wrap, diaries and fashion stationery, it added.
"Our travel business continued to grow across all channels," commented group chief executive Stephen Clarke.
"This was driven by our ongoing investment in the business, including the roll out of our new concept stores at Heathrow, and growth in air passenger numbers. InMotion delivered an impressive sales performance over the Christmas period and integration into the Group is progressing well.
"I would like to take this opportunity to thank our 15,000 colleagues across the group for their hard work over this busy period. Without their ongoing support we would not be able to achieve these results.
"Looking ahead, whilst there is existing uncertainty in the broader economic environment, the group is well positioned for the year ahead and beyond."
WH Smith rose 1.9% to 1,912p in early trading.
Morning update
Sales surged 15% at premium chocolate retailer Hotel Chocolat (HOTC) during the 13 weeks to 31 December.
The online and high street retailer was buoyed by store openings which provided a 5% boost to sales during the pre-Christmas period.
Hotel Chocolat's rapid store expansion strategy continued with 15 new stores in the UK, bringing its portfolio in its home market to 117.
The retailer recorded growth across each of its retail, digital and wholesale channels and is on target to meet market expectations, it said.
"This was another strong Christmas for Hotel Chocolat. Our new store openings contributed 5% of the growth in the period, with the balance coming from existing stores, digital and wholesale channels," commented co-founder and CEO Angus Thirlwell.
"Our wholesale partnerships were notable successes with strong growth, balancing lower margins with lighter capital investment.
"Initial customer response to our new location in New York and joint venture store in Tokyo has been very encouraging, demonstrating the global appeal of the Hotel Chocolat brand and its ability to travel overseas."
Elsewhere, retail technology business Eagle Eye (EYE) saw sales jump 26% to £8.2m in the six months to 31 December.
The software provider saw sales for its AIR platform drive the growth, as they rose 36% to £7.2m over the period.
The business was also buoyed by new contract wins including Waitrose and Burger King.
Performance remains on track with board expectations, it said, while its net debt of £1.8m is ahead of forecasts.
"We are delighted to confirm a strong first half of the year, delivering significant revenue growth and expansion of the customer base, including the addition of Waitrose and Burger King," commented Tm Mason, chief executive of Eagle Eye.
"With a growing number of retailers turning to the Eagle Eye AIR platform to create a meaningful connection to their customers, we are excited about the prospects for the business and we are confident in our ability to create increased shareholder value."
Tim martin's pub chain Wetherspoons (JDW) saw year-on-year sales jump 7.2% for the 12 weeks to 20 January.
The chain is set to open between five and 10 new pubs in the current financial year and has already spent £56m in the year to date on pub refurbishments.
The pro-Brexit Wetherspoon's chairman said: "Sales growth has been strong since our last update. Costs, as previously indicated, are considerably higher than the previous year, especially labour, which has increased by about £30m in the period, but also in other areas, including interest, utilities, repairs and depreciation.
"Profit before tax in the first half is expected to be lower than the same period last year. Our expectations for the full year are unchanged."
Rival pub owner Marston's (MARS) has announced it is to scale back its expansion programme as part of plans to tackle its growing debt pile.
The news came as the pub group announce 1.4% like-for-like sales growth for the 16 weeks to 19 January. Over the Christmas fortnight, comparable sales rose 5.7%, it said.
"Marston's continues to perform well and this is a creditable performance in a challenging market," said CEO Ralph Findlay.
"Taverns and the Beer Company both delivered strong trading over the core festive period in particular, continuing the trajectory of recent months, and our managed food-led pubs also returned to growth."
The FTSE 100 has started as it left off, continuing its decline amid concerns over growth in China, sliding 0.5% to 6,868pts.
Early risers this morning include PayPoint (PAY), up 4.7% to 873p, Eagle Eye, up 4.3% to 180p, Hilton Food Group (HFG), up 3.1% to 940p and Bakkavor (BAKK), up 2.7% to 141.8p.
This morning's fallers included Pets at Home (PETS), down 5.2% to 139.6p, Premier Foods (PFD), down 3.9% to 33.6p, and Marston's (MARS), down 3.4% to 99.2p.
Yesterday in the city
Worries over growth in China dented the FTSE 100 yesterday, as it dropped 1% to 6,901pts while US markets were also impacted.
The big news in the UK yesterday was that Patisserie Valerie owner Patisserie Holdings has now entered into administration.
The café and bakery chain, whose shares have been suspended since it first revealed concerns over accounting irregularities, announced that 70 stores are set to close while it seeks a buyer for the rest of its 200-strong portfolio.
Elsewhere, Pets at Home surged 17.3% to 147.2p after revenues over the Christmas period grew by 6.3% with retail revenues up 5.5%.
Another riser, albeit more modestly, was Just Eat (JE.), which rose 0.8% to 667.8p after announcing the £22m acquisition of restaurant software platform Flyt.
Other risers included Eagle Eye Solutions (EYE), up 4.9% to 172.5p, McColl's (MCLS), up 4.2% to 65p and Ocado Group (OCDO), up 3.3% to 915p.
Yesterday's fallers included Wincanton (WIN), down 4% to 240p, Nichols (NICL), down 3.7% to 1,560p, Finsbury Food Group (FIF), down 3.6% to 79.5p and Hilton Food Group (HFG), down 1.7% to 912p.