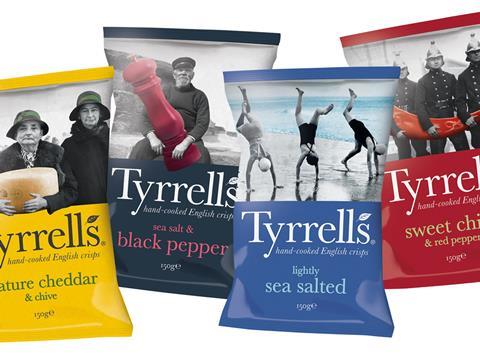 Profits at snack brand Tyrrells almost halved in the period of its £300m sale to Amplify Snack Brands, newly filed Companies House documents have revealed.

The first year-on-year figures since the acquisition show operating profits fell 45% in the 39 weeks to 31 December 2016 as deflationary conditions and exceptional costs hit the bottom line.

Tyrrells' year-end was changed to 31 December to align with its parent Amplify, so directly comparable figures for the full year are not possible.

However, the accounts split out a 39-week comparable period, which shows sales edged up 3% to £47.7m - a marked slowdown from the 25% growth in its previous financial year and 22% growth the year before.

EBITDA margin for the full year fell to 12.4% from 20.7% in the 53 weeks to 1 April 2016.

Amplify shook up the Tyrrells management team in May 2017, with former CEO David Milner and ops director Stuart Telford leaving and new FD Malcolm Burns, commercial director Adam Draper and ops director Rob Baxter joining amid a further "disappointing" first-half performance of Tyrrells in the UK.

Amplify CEO Tom Ennis admitted in August that Tyrrells was in turnaround mode after UK sales were hit by supermarkets shifting their focus to own label to combat the discounters.

Amplify has ditched some "unproductive" branded SKUs and cut back "non-strategic" own label after its international division, primarily the acquired Tyrrells business, posted a first-half operating loss of $1.7m (£1.3m).
Speaking to The Grocer, Josh Gittler, senior director of corporate finance at highlighted the "great team with significant CPG experience" it now has in place at Tyrrells, adding: "the turnaround is progressing very nicely and we're seeing improving sales and margins."
Last month Tyrrells debuted its first TV advert in its 15-year history as part of a £2.5m marketing push.
"The Tyrrells brand remains strong and relevant – we love the brand and the products," Gittler added.
The abridged 2016 accounts show staff costs at Tyrrells rose sharply on a pro-rata basis to £7.4m in the 39-week period compared to £7.8, in the previous 53 week period as headcount increased from 197 to 217.
The group also incurred exceptional costs of £0.8m related to management reorganisations, litigation and acquisition costs.As well as experiencing tough conditions in its home UK market, the accounts suggest Tyrrells overseas sales are also under pressure – given the £12.3m of international sales represented 20% of turnover in 2015 and the £9m of ex-UK sales in the 39-weeks to the end of 2016 represented a smaller 18.8% of group sales.