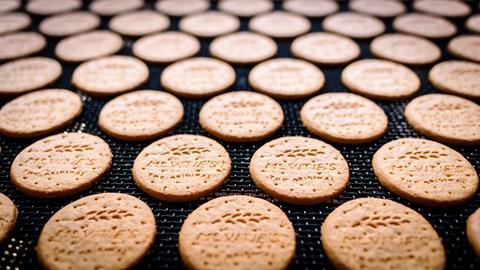 McVitie's owner United Biscuits was boosted by strong retail demand for its core brands during the pandemic, helping profits and sales grow in its latest financial year.
Newly filed UK accounts for the year to 31 December show the Pladis-owned biscuits giant grew sales by 4.1% to £867.5m as it gained retail market share.
The accounts said the coronavirus crisis had a "significant impact" on the market, with foodservice losing over a third of its scale as consumption moved in-home.
That favoured its core McVitie's and Jacob's brands, which "performed particularly strongly" and were boosted by NPD with the introduction of McVitie's Jaffa & Digestives flavours in its sweet portfolio and Jacob's mini chedders variants in savoury.
However, it said sales growth softened over the summer as restrictions were relaxed.Overall, its branded biscuit sales accounted for 24.6% of the overall market, which represented growth of 1.4 percentage points year-on-year.
Adjusted EBITDA edged up to £136m from £133.9m as the benefit of increased sales was mitigated by "substantial" investment during the Covid period to maintain business continuity and keep staff safe.
Pre-tax profits were up 18.3% to £74.5m.
Pladis commented: "Last year was a good year for pladis' UK biscuit sales and the entire biscuit category. This was primarily driven by pandemic-related behaviour shifts early on in 2020.
"The UK biscuit market is a mature market which, aside from the impact of COVID in 2020, has historically seen low growth."
It cautioned it faced a number of headwinds in the UK, due to the wider implications of COVID across its entire supply chain, as well as policy changes such as the Government's proposed HFSS measures (foods high in fat, salt or sugar).
However, it added: "We remain focused on NPD and developing healthier products for our customers to enjoy – which will be key to driving growth going forwards."