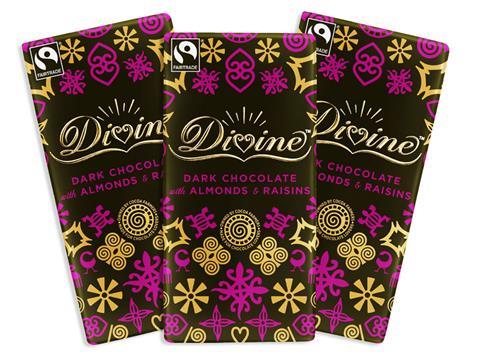 Fairtrade confectionery manufacturer Divine Chocolate saw a 50%-plus boost to revenues last year as US growth helped make up for losing listings in UK supermarkets.
Overall revenues at the chocolatier, which is owned by Kuapa Kokoo – a co-operative of cocoa farmers in Ghana, were up 52.5% to £12.6m in the 12 months to 30 June.
Pre-tax profits were also up significantly, rising 68.7% to £280k from £166k last year.
The trading boost was driven by improved performance in the US, which saw 22% growth last year and moved into profit.
This US growth made up for a "slight fall" in UK sales during the year after Divine lost listings in Morrisons, Sainsbury's and Tesco as a result of rage rationalisations. Overall supermarket sales in the UK were down, but Divine saw growth in foodservice, retail and own label.
Chief executive Sophi Tranchell commented: "Having launched Divine in the USA nine years after the founding company launched in the UK, it has been very exciting to see it successfully navigate all the challenging in the US market and mirror the success of Divine in the UK."
"The new structure strengthens the group, making us more resilient and giving us a wider consumer reach, and in doing so gives Divine more power to deliver our mission to fairly and sustainably remunerate smallholder coca farmers in West Africa, as well as empowering them to take their future into their owns hands."
Kuapa Kokoo owns 44% of the combined business and. Along with sharing distributed profits, the co-operative benefitted from the Producer Support and Development Fund, which contributes 2% of UK turnover and 1% of USA turnover.
Overall producer support rose to £202k during the year from £165k last year.
In the US Divine said winning new accounts with Sprouts, Books a Million and Market Basket along with growth at Whole Foods and Wakefern helped grow US sales.
In the UK, Divine said its value sales grew by over 40% in Waitrose and it also won new business in WH Smith, Virgin Atlantic and Southeastern Trains and grew own-label sales to The Co-op and Starbucks.
On 1 July 2014 Divine UK merged with Divine via a share-swap agreement, meaning the accounts of the two divisions are fully consolidated.