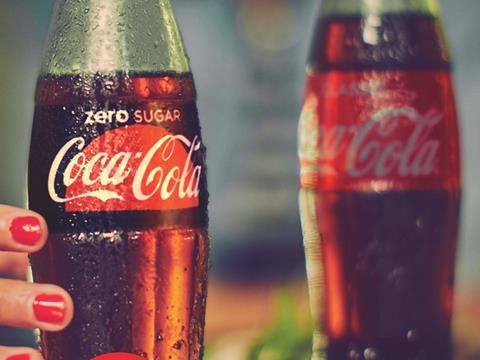 Sales volumes slumped 3.5% at Coca-Cola European Partners (CCE) in the first half of 2018, after sales dived in Western Europe.
Unfavourable weather in Spain and Portugal caused a 6% slump in the region in the second quarter, while "disruption in customer negotiations" caused a 9.5% fall in French sales.
Nevertheless, CCEP's total comparable revenues grew 1% in the half-year to 29 June 2018, as it was supported by strong sales growth in the UK.
UK prices were pushed up by April's soft drink levy which contributed to a 6.5% increase in UK revenues in the quarter, alongside promotions and packaging mix changes.
Strong revenue growth per unit case across the business, up 5%, was offset by the fall in volume, as CCEP reported sales totalling €5.4 billion for the half-year, flat against the same period in 2018.
Soft drinks industry taxes, including the UK levy on added sugar drinks, helped to add around 1.5% in value to each case, it said.
Revenue in the second quarter was also flat against 2017, at €3.1bn while comparable revenue rose 0.5%. On a comparable basis, volumes declined 4.5% in the quarter.
Dispruption in France and soft drinks taxes were blamed for "high single-digit decline" in the Coca-Cola Classic brand, with 5.5% decline across all Coca-Cola trademark products.
Still brands declined 9.5%, underpinned by a 8% fall in water sales, but the soft drink supplier highlighted strong performances by Schweppes, German brand Mezzo Mix and energy drinks.
Coca-Cola Zero Sugar was also singled out as one of the start performers, shooting up to 7% sales growth.
"We are pleased with our execution and performance in the first half as we continued to make bold portfolio and pricing decisions," said CEO Damian Gammell.
"Overall, we are encouraged by our first-half performance given business disruption in France owing to customer negotiations; unfavourable weather in Iberia; and new industry taxes, notably in Great Britain.
"Given our solid progress in the first half, we have affirmed our 2018 profit outlook. We are committed to implementing our Beverages For Life strategy; investing in our business; better serving our customers; and improving our in-market execution."