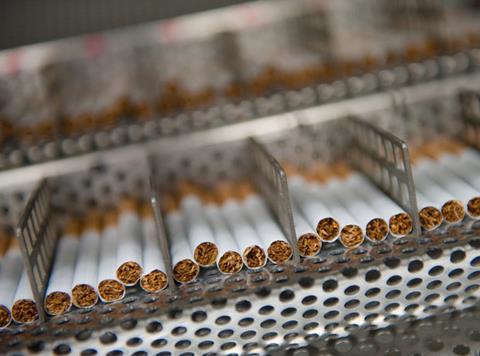 British American Tobacco (BATS) has announced that first half earnings will be boosted by at 14% currency tailwind as it confirmed it is trading in line with expectations ahead of the 27 June close period for its interim results.
BAT said the business "continues to perform very well" and is on target to hit first half forecasts.
It said first half revenue is expected to benefit from good pricing, though first half volumes are lapping a strong prior year comparator and will be impacted by the phasing of shipments in a number of key markets, including Pakistan.
Full year volume is expected to outperform the industry, which BAT anticipates will be down around 4%.
Profit growth expected to be weighted to the second half of the year, due to the phasing of volume shipments, next generation product investments and marketing spend.
First half EPS is expected to benefit from a significant translational foreign exchange tailwind of around 14%.
If exchange rates stayed the same for the remainder of the year, there would be an adverse transactional impact on operating profit of 2% for both the first half and the full year. However, for translation, this would be a tailwind on operating profit of approximately 13% for the half year and 7% for the full year.
It said Canada, Romania, Bangladesh and Ukraine are performing well, but that conditions remain challenging in Brazil, South Africa, Malaysia, France and the UK.
The shares were up 0.7% to 5,455p today and are up 34% year-on-year almost a full-year after being boosted by the initial post-Brexit collapse in the pound.