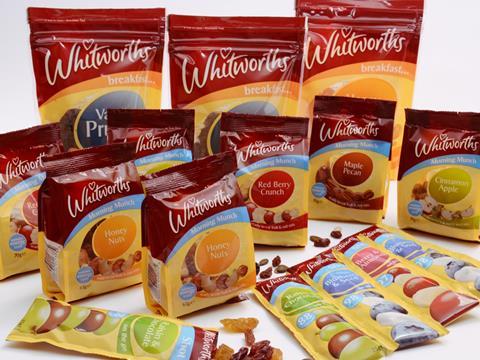 Health food specialist Whitworths has reported booming sales in its first year under new private-equity control.

The home baking and dried fruit & nuts supplier saw an 8.9% revenue hike to £157m for the year to 3 May 2014, according to accounts at Companies House.

The results are Whitworths' first since being acquired by PE firm Equistone for £90m from investment company European Capital in September 2013.

CFO Peter Unsworth said: "Many of the company's markets reflect today's consumer trends of healthy eating, snacking and increased baking habits, and these sectors continue to grow."

The vast majority of Whitworths' revenues remain UK-generated, but European sales rose from a nominal level to £2.5m during the year.

Despite the revenue growth, pre-tax profits fell 45% to £6.5m, largely as a result of one-off exceptional costs and a slimming down of gross margin. Exceptional costs totalled £3.6m during the period, consisting primarily of an insurance claim settlement and restructuring costs.

Gross profit fell 3.1% to £21.1m as the company's cost of sales rose 10.5% to £136m during the period.