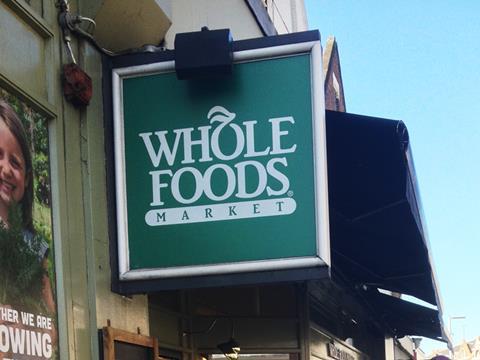 Amazon-owned Whole Foods Market lost a further £6.7m last year despite slimming down its estate to focus on more profitable London stores.
Pre-tax losses rose more than a third, up from £4.9m in 2018, despite turnover rising 3% to £100.6m. Gross profit margin increased from 40% to 41% during the year but administrative expenses rose 8% to £51.7m, which hit its bottom line.
Amazon closed two of Whole Foods' nine UK stores soon after its £10.7bn acquisition of the US-focused chain in 2017, shutting stores in Cheltenham, Gloucestershire and Giffnock, East Renfrewshire, to focus on the remaining seven London-based outlets.
Amazon's UK-based stores are largely used to underpin the range of groceries available on AmazonFresh in London and the South East.
In the US Whole Foods is a major physical retailer with more than 500 stores and is the primary contributor to Amazon's physical store sales of $17.2bn annually.
Whole Foods launched in the UK after it purchased seven Fresh & Wild stores in 2007.