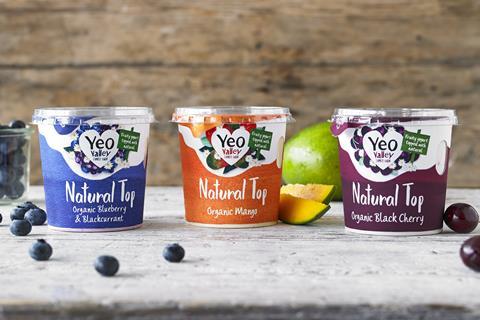 Profits have fallen in Yeo Valley's first trading period since the sale of its milk business to Arla as increased costs and restructuring have hit its bottom line.

Sales in the period for newly established Yeo Valley Production Ltd, which houses the vast majority of the group's business, were up 1.1% to £253.7m in the year to 2 June 2019.

However, pre-tax profits dropped 72% back to £3m from £10.7m in the previous financial year as administrative expenses jumped by 25% in the period.

Its bottom line represented a net profit margin of just 0.9% compared to the 5% margin targeted by the board.

Yeo Valley said the reduced profitability also reflected a one-off benefit from the disposal of properties in its 2017/18 financial year.

It was also impacted by investment in production at its site that previously produced bottled milk before the February 2018 sale of Yeo Valley Dairies.

"We have therefore had a relatively high cost base for a site which is not currently generating income, but that investment has positioned us to be able to grow our income and profitability in future years," said a spokeswoman.

The accounts state the company achieved a "credible performance in a highly competitive market", helped by innovation including bringing the first spoonable Kefir products to market.

The other arm of the newly restructured group, Yeo Valley Farms, which houses its marketing and property arms, moved into an operating profit of £506k compared to a loss of £1.1m in the previous period on revenues that rose to £4.6m from £2.9m.

The previous annual accounts of the consolidated Yeo Valley Group before the restructure showed sales rising by £2.5m to £294.6m for the year to 27 May 2018 and profit before tax of £9.4m.