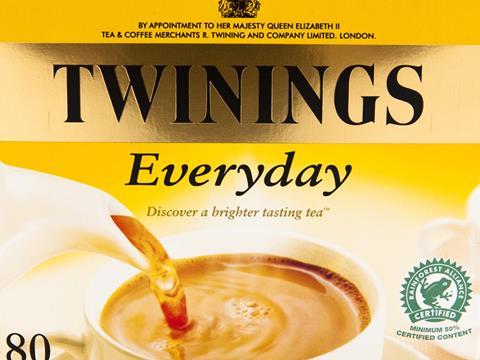 The first major casualties of Asda's Project Renewal range review can be revealed this week, as research exclusively carried out for The Grocer showed a raft of leading brands had been delisted or had a big chunk of their line-up removed.
Figures from Brand View show companies hit include Carling, Müller, Princes and Walkers, with many categories having their SKU count slashed by more than 10% overall.
Asda plans much bigger changes, having promised to unveil a new store layout featuring up to 25% fewer SKUs, as part of the plans to simplify its grocery offering, following a similar move by Tesco last year.
Analysis: Where did it all go wrong for Asda? And what's next?
Among the companies hardest hit is Whitworths, which has seen the removal of 28 SKUs, or 63% of its range in Asda, according to the data, which tracks changes from October 2015 to 1 June 2016.
Quaker has lost 29 lines, nearly half its line-up. Another hit is Twinings, with 18 SKUs coming out, more than a quarter of its range.
However, other brands have been completely delisted, including Carling Cider as well as Walkers Deep Ridged and Extra Crunchy crisps.
Among the overall ­categories most affected include tea (-20%), tinned meat (-23%) and beer (-13%), reflecting similar areas to Tesco.
But Asda still has a long way to go to come anywhere near Tesco's Project Reset, with our analysis showing that overall it has reduced its grocery range by just 1% in the past year.
"We have yet to see this range reset really happen," said one source. However, another source said: "The process is under way."
In February The Grocer revealed Asda planned to axe up to 25% of SKUs in some categories after it approached suppliers asking for price reductions of up to 10% and investments worth millions to fund its review.
A spokesman said: "At Asda we understand our customers better than anyone else and are using the insight they provide to shape the variety of products we have on our shelves.
"We're currently around one third of the way through this part of the programme, including significant investment being made in our own label lines, and remain focused on delivering refreshed ranges, informed by our customers wants, to ensure we're able to meet their needs now and in the future."
| Top 20 cut brands | Oct 2015 SKUs | Current SKUs | Total reduction | Percentage reduction |
| --- | --- | --- | --- | --- |
| Pet London | 59 | 0 | -59 | -100% |
| Whitworths | 71 | 26 | -45 | -63% |
| Quaker | 57 | 29 | -28 | -49% |
| Weight Watchers | 77 | 52 | -25 | -32% |
| Jelly Belly | 37 | 14 | -23 | -62% |
| Rosewood | 23 | 1 | -22 | -96% |
| Princes | 121 | 99 | -22 | -18% |
| Own Label Healthy | 296 | 274 | -22 | -7% |
| Grants | 24 | 4 | -20 | -83% |
| Safe & Sound | 19 | 0 | -19 | -100% |
| Twinings | 65 | 47 | -18 | -28% |
| Own Label Budget | 316 | 300 | -16 | -5% |
| My Cocktail | 25 | 10 | -15 | -60% |
| Kellogg's Special K | 36 | 21 | -15 | -42% |
| Iams | 22 | 8 | -14 | -64% |
| Lynx | 87 | 73 | -14 | -16% |
| Duerrs | 13 | 0 | -13 | -100% |
| Schwarzkopf Essence Ultime | 13 | 0 | -13 | -100% |
| Cofresh | 74 | 61 | -13 | -18% |
| Greens Cakes | 15 | 3 | -12 | -80% |
| Top 20 expanded brands | Oct 2015 SKUs | Current SKUs | Total gain | Percentage gain |
| --- | --- | --- | --- | --- |
| Rimmel | 177 | 320 | 143 | 81% |
| Collection | 9 | 118 | 109 | 1211% |
| Own Label | 6297 | 6348 | 51 | 1% |
| L'Oreal Paris | 223 | 259 | 36 | 16% |
| Air Wick | 72 | 100 | 28 | 39% |
| Vatika | 7 | 35 | 28 | 400% |
| OGX | 11 | 37 | 26 | 236% |
| Nailene | 28 | 52 | 24 | 86% |
| Mila Rose | 65 | 88 | 23 | 35% |
| Baylis & Harding | 7 | 27 | 20 | 286% |
| Schwarzkopf | 16 | 33 | 17 | 106% |
| Andrew Barton | 26 | 42 | 16 | 62% |
| Cow & Gate | 109 | 124 | 15 | 14% |
| Aunt Bessies | 47 | 62 | 15 | 32% |
| Silver Spoon | 3 | 18 | 15 | 500% |
| Kiss Products | 0 | 15 | 15 | New Line |
| Webbox | 68 | 82 | 14 | 21% |
| Pataks | 30 | 44 | 14 | 47% |
| Osem | 25 | 38 | 13 | 52% |
| Riyas | 0 | 13 | 13 | New Line |
| Top categories delisted | Oct 2015 SKUs | Current SKUs | Total reduction | Percentage reduction |
| --- | --- | --- | --- | --- |
| Party Items | 217 | 136 | -81 | -37% |
| Pet Outerwear | 82 | 3 | -79 | -96% |
| Ready to Eat Cereal | 319 | 248 | -71 | -22% |
| Health & Beauty Gifting | 116 | 60 | -56 | -48% |
| Juice Drinks and Smoothies | 521 | 469 | -52 | -10% |
| Tea | 248 | 198 | -50 | -20% |
| Beers, Lager and Cider | 368 | 319 | -49 | -13% |
| Hot Cereal | 144 | 97 | -47 | -33% |
| Carbonates | 421 | 374 | -47 | -11% |
| Baking | 467 | 420 | -47 | -10% |
| Biscuits | 399 | 354 | -45 | -11% |
| Ready to Drink | 126 | 86 | -40 | -32% |
| Cleaning | 370 | 332 | -38 | -10% |
| Savoury Biscuits | 199 | 162 | -37 | -19% |
| Coffee | 211 | 176 | -35 | -17% |
| Tinned Meat | 151 | 117 | -34 | -23% |
| Chocolate | 428 | 395 | -33 | -8% |
| Squash | 166 | 135 | -31 | -19% |
| Sweet Spreads | 224 | 193 | -31 | -14% |
| Red Meat | 328 | 302 | -26 | -8% |
| Top categories expanded | Oct 2015 SKUs | Current SKUs | Total gain | Percentage gain |
| --- | --- | --- | --- | --- |
| Cosmetics | 885 | 1151 | 266 | 30% |
| Nail Care | 216 | 328 | 112 | 52% |
| Sun Protection | 115 | 177 | 62 | 54% |
| Hair Accessories | 96 | 158 | 62 | 65% |
| Frozen Ready Meals | 147 | 208 | 61 | 41% |
| Cakes and Cookies | 378 | 429 | 51 | 13% |
| Self Tanning | 36 | 77 | 41 | 114% |
| Nail Kits | 35 | 74 | 39 | 111% |
| Hair Colourants | 365 | 403 | 38 | 10% |
| Wash & Care | 473 | 507 | 34 | 7% |
| Hair Styling | 208 | 240 | 32 | 15% |
| Hair Treatment | 85 | 116 | 31 | 36% |
| Chilled Ready Meals | 504 | 533 | 29 | 6% |
| Chilled Desserts | 239 | 263 | 24 | 10% |
| World Foods | 505 | 527 | 22 | 4% |
| Ale | 261 | 283 | 22 | 8% |
| Air Freshener | 314 | 335 | 21 | 7% |
| Facial Cleansing | 168 | 189 | 21 | 13% |
| Prepared Meat | 49 | 69 | 20 | 41% |
| Wet Baby Food | 351 | 368 | 17 | 5% |