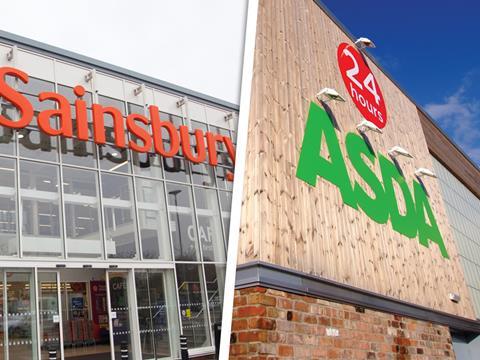 The CMA is preparing for the Phase 2 fast-track investigation of the Sainsbury's-Asda 'merger' and, having been heavily criticised for missing the point on the Tesco-Booker case, it will be determined to get this one right.
From the outset it is declaring two areas of focus: 1) less choice for local shoppers and 2) buying power to squeeze suppliers.
On the first issue of less choice in certain catchments, the outcome is that a few stores may need to be offloaded. No biggie, and that's not my issue. On the second area it wishes to ascertain whether the merged company could use its buying power to squeeze suppliers. What? Squeezing suppliers is the declared intention of the merger. In Mike Coupe's round of 'in the money' interviews he was announcing 10% would fall out of suppliers' pockets when they were turned over and shaken.
So, if it goes through is this acknowledgement of the fact that they won't have any extra buying power? No, the CMA is only really concerned if the squeezing has a knock-on effect for shoppers. But when the deal goes through, which it surely will, of course the knock-on effect of reduced budgets for innovating, marketing, jobs and food specs will eventually affect shoppers. It's the same ultimate pressure that we see now anyway in the battle to be cheap.
If there is any confusion here, perhaps the CMA should give me a call. Yes, suppliers will get a tough time from the new super-sized Sainsbury's group, but the real pressure doesn't ultimately come from the buying power of a 30% entity. It comes from the diminishing ability of suppliers to mitigate their risk across a fragmented customer base when we have two customers comprising 60% of the fmcg market.
But then isn't this check on shopper effect a bit futile anyway? Imagine it was blocked - where would that leave Asda? Don't let's forget that Walmart wants out. While all other retailers have diversified like hell, Asda has just been rolling back pricing. The CEOs must have been hamstrung by Walmart because that lack of inventiveness and persistence on a strategy that plays so obviously into the hands of the discounters is suicide.
We all know the real reason for the merger - to snap up the unwanted business to make cost savings through head office mergers and headcount, same as any other buyout.
David Sables is CEO of Sentinel Management Consultants