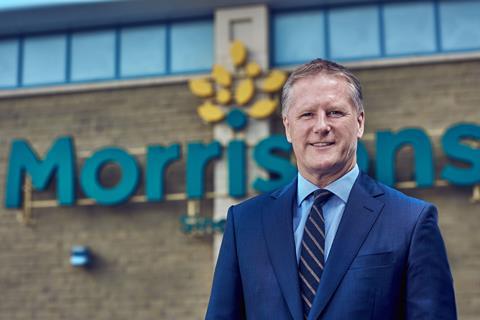 Morrisons CEO David Potts has denied it is the biggest potential loser of the Sainsbury's-Asda deal, declaring "competition will only make us stronger".

The supermarket reported a like-for-like sales rise of 3.6% in the first quarter today.

Some analysts have suggested the potential deal leaves Morrisons exposed, but Potts told The Grocer the retailer had nothing to fear from the proposed mega-merger, or its reliance on its deal with Ocado and Amazon to compete in the online war.

"I think we welcome vigorous competition. It is a very important part of British retail," said Potts. "The important thing is to do what is right for our customers."

Although it has forged deals with both Amazon and Ocado, and has been touted as a possible takeover target for the American giant, Morrisons has a tiny standalone online presence compared to its UK rivals, with Asda and Sainsbury's set to rapidly expand the Argos empire if their merger is approved by the CMA.
In contrast, Potts announced today that Morrisons was up to 10 stores picking for online deliveries.

However, he said a new joint venture distribution centre with Ocado in south east London was on course to open later this year, further boosting Morrisons' online potential.

He said; "I don't think we are too reliant on our joint ventures. Maybe 10 is a small number of stores but it's 10 more than it was and we're very pleased with the reach the Erith/Ocado shed will give us."

Morrisons is also now selling more than 10,000 products via its link-up with Amazon.

Potts also strongly hinted today that the retailer was hoping for multiple new deals as it expanded its wholesaling arm, saying the company was "open for business".

Morrisons has been supplying McColl's through a rolling programme of about 25 stores per week during the first quarter, including brands and the revived Safeway name for own label.

Potts said the supermarket was on course to hit the target of £700m of annual sales by the end of the year and £1bn "in due course".