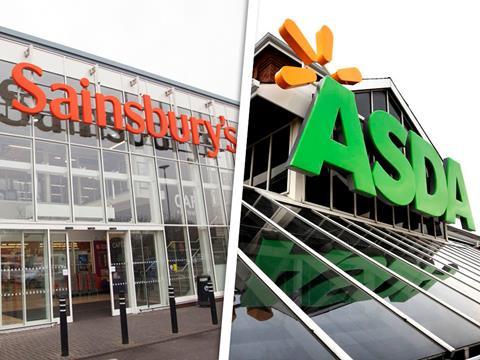 Shockwaves were sent through the industry this weekend after it emerged a £10bn merger between Sainsbury's and Asda was on the cards.

Here's how City analysts and other experts reacted to the bombshell news.


Bruno Monteyne, senior analyst, Bernstein:

"Everything swings on CMA-store-disposals. This is a bold gamble. This deal could easily unravel acrimoniously if the CMA sticks to its old rules and parameters. As a starter we assumed that 8% of joint stores would have to be disposed of, with 6% store contribution margins.

"There is lots of talk of the "CMA since Tesco/Booker", assuming that something changed in the way the CMA looks at such deals. We dispute that: the CMA took the only possible conclusion in line with its remit. Therefore local competition, within 10 to 15 minutes' drive time, remains the key driver of store disposals. We think the potential gamble will depend on how the CMA treats discounter stores. In the past they were largely excluded (as being too small and therefore not a comparable one-stop shop).

"The price of bad execution is huge. Morrisons/Safeway lost 28% of their sales through a combination of store disposals (9%), integration problems and culture clash. Cultures and retail propositions at Sainsbury's and Asda are very different, therefore the execution risk seems much higher than the smooth Ahold Delhaize merger."


Natalie Berg, founder of NBK Retail:

"This deal is about two things - scale and survival. The grocery sector has been plagued by margin erosion, the result of higher costs and increased competition from the discounters, which is now inevitably leading to consolidation. Industry-wide margins have dropped from 5% to around 2-3%.

"The UK grocery sector is facing unprecedented levels of change. While the deal will undoubtedly generate cost synergies, it doesn't materially address the structural changes in the market. Over the past five years, Aldi and Lidl's combined market share has grown by 80% while online sales of non-food products have doubled. The only retailers that can sustainably compete on price with the discounters are other discounters. The discounters' operating model is vastly different to the large supermarkets, given their focus on smaller outlets, a no-frills store environment and a limited, predominantly own-label assortment.

"Sainsbury's and Asda went into this deal with the understanding that a significant number of stores disposals will be required in order to gain the green light from the CMA. In that sense, the deal is an opportunity to gain scale in the face of rising costs and increased competition, while simultaneously offloading some unwanted sheds. A decade ago, at the height of the space race, the supermarkets would have been more reluctant to let sites go. In a sense, this deal is an admission of today's oversupply of retail space.

"They may be retaining both fascias for now but I imagine the Asda brand will disappear from the high street. There's no room for a retailer like Asda in today's market. If shoppers want low prices, they head to the discounters. If they want convenience, they head to Amazon."

"The deal is also a pre-emptive move against Amazon. In the UK, Amazon is not currently perceived as a food destination, but its ambitions in grocery are very clear. They have a growing appetite for bricks and mortar, having already acquired Whole Foods, and are quickly building out their online offer through supply agreements with Morrisons and Booths. Expect more to come. Amazon has the infrastructure in place but one-hour delivery is no good without a compelling range of products. They will come knocking on a UK retailer's door. Despite their negligible share of the market, Amazon has been incredibly effective at driving change in areas such as same-day delivery and voice technology."


Clive Black, Shore Capital:

"This is a merger plan thrown together by two companies from a position of weakness. It's two companies that have struggled to grow organically.

"If anyone deserved a pickle like this to deal with it's the CMA, but I can't think of one reason why a duopoly like this could be good for customers. We were surprised the Tesco/Booker deal got cleared the way it did but this is different because at least Tesco and Booker operated in different channels and Tesco achieved 30% of the market through organic growth.

"Here we are talking about two bitter rivals in exactly the same market. Apparently the two companies are already talking about offering 10% price cuts, which will be enough to have suppliers choking on their cornflakes.

"I think Tesco is still in a very strong position, whereas this deal seems to be full of enormous executional risk."


Nick Bubb, independent analyst:

"Today's merger news would have been unthinkable a couple of years ago, but the bizarre decision last year by the CMA to give the Tesco/Booker deal the go-ahead without any divestments inevitably opened the path to more sector consolidation. We therefore think there's a pretty good chance the CMA will allow the merger to proceed in the end, but there will be a lot of arguing about local catchment overlaps and the main debate is how many stores JS/Asda will have to promise to sell to placate the CMA (to meet their goal of deal completion in the second half of 2019).

"Too many store disposals and the deal won't be worth doing (JS/Asda actually say that no store closures are planned). Too few store disposals and the CMA will look toothless. Hopefully there will be a 'Goldilocks' scenario for JS/Asda!

"In the long term, a successful Sainsbury's/Asda merger would be bad for Morrisons, but in the short term it is very well placed to grow by buying the surplus stores from Sainsbury's/Asda and it may also get bought by Amazon eventually.

"The deal is not exactly great for Tesco either, but they are busy with Booker and arguably it's their fault that Sainsbury's was emboldened by the CMA approval of the Booker deal to come up with this Asda idea."
David Beadle, vice president and retail analyst at Moody's:

"Combining Asda and Sainsbury's will unseat Tesco as the UK's leading supermarket, with the enlarged group limiting profit improvement for the country's other grocers in the years ahead."
Andy Brian, head of retail at Gordons law firm:
"This potential deal has come as a huge shock even for those in the industry and it seems people are still guessing what might happen if Asda and Sainsbury's were to join forces. One thing is clear; despite what is being said officially, stores would have to close. That's not necessarily a bad thing for the brands, although it would of course be a bad thing for those store employees. Moving forwards, one theory is that this deal could allow Sainsbury's the freedom to compete hard against M&S Food and Waitrose at the top end of the grocery market and leave Asda to compete further on price against the other mid-market players, as well as Aldi and Lidl.
"It's not yet clear whether that's the real intention but any deal would undoubtedly shake up the UK supermarket sector, possibly like never before."

Neil Saunders, managing director, GlobalData Retail:

"From a scale perspective, a deal makes sense. The combined entity would have a 22% share of the UK's food and grocery market. This is well above the share of the current leader, Tesco, which has 17.7%. Such a dominant position in grocery - along with the combined non-food business which includes Sainsbury's Argos division - would create many opportunities for cost savings and buying efficiencies.

"The deal is also genuinely additive in that Sainsbury's and Asda have different market positions both geographically and in terms of the demographics they serve. There is some overlap, but it is far more minimal than that between, say, Sainsbury's and Tesco.

"However, in our view both of these advantages also create problems.

"On the scale front, any deal would require approval from competition authorities. Given the highly consolidated market, it is likely that scrutiny would be high and an investigation prolonged. "Even if a deal was ultimately permitted, it may be subject to remedies such as store disposals and other measures, which would be disruptive.

"The differences between the two groups make a true merger almost impossible. Although it could be combined corporately, we believe it would be folly for the new entity to completely merge operations and brands. This limits the scope for savings and efficiencies and, if anything, adds complexity.

"Aside from any synergies which are helpful to the bottom line, we also question how Sainsbury's intends to generate growth from Asda. Walmart, which has scale and financial power on its side, struggled with its UK arm for years. While things now seem to be stable, it is hard to conceive what Sainsbury's brings to the table that will drive growth to a new level.

"These negative factors mean a deal is far from done. In our view, they also indicate that this is a defensive play. As necessary as they can be, moves made in defence are not always the most creative or sensible."

Richard Lim, chief executive, Retail Economics:

"If given the green light by the CMA, it would be a game-changer in the industry. The potential tie-up could deliver price reductions across a range of products, putting it in a position to challenge Tesco and the discounters head-on.

"The combined retail group would create significant scale. It would enable better buying terms, the integration of Argos within Asda and drive operating efficiencies expected to deliver cost savings of at least £500m.

"Serving customers 'whenever and wherever they want' would take a giant leap forward with expertise in digital technology dovetailing with an expansive store estate. If executed well, it could become an effective differentiator of choice for many consumers given the strong multi-product, multi-channel proposition."


Catherine Shuttleworth, CEO at Savvy shopper and retail marketing agency:

"We were always expecting something to happen to consolidate the grocery market - the middle ground has been squeezed the most by the inevitable march and expandability of the discounters, a reinvigorated Tesco with Booker under its wing is less arrogant and more relevant than with support from suppliers and conversion with shoppers. So the potential of Sainsbury's and Asda joining forces creates a new dimension for the UK grocery market. While it's unclear what form this merger may ultimately take it was always necessary to consolidate to survive. Could this be the catalyst for Amazon to make a real move?"
James Watson, head of retail capital markets at Colliers International:
"The latest news on the potential Sainsbury's Asda merger is a really interesting move. We would expect that there will be some issues from the CMA regarding monopolies although bearing in mind where the market is now, Tesco already has a 27% market share and with the rise of discounters such as Lidl and Aldi, their combined stake at 29% is similar. There would no doubt be a requirement to divest of some their stores, but a lot of this could be covered by natural wastage. Many of these assets will already be on the balance sheet at replacement cost, which shouldn't be too painful for them. It all depends on what they plan to do with the two formats. The initial press release states the two brands will be maintained in their current format but in reality, it's got to mean one head office, a merged supply chain and increased divestment of non-core assets, both voluntarily and involuntarily.
"This latter point could be the one sticky area in Sainsbury's and Asda's property portfolios. The demand from retailers for vacant secondary stores will be weak and these sites are likely to be redeveloped into mixed use, residentially led schemes.
"The principal losers on this deal will be suppliers who are going to be even more squeezed with a merged suppliers list and one less buyer in the market.
"Looking at the rest of the market, following this potential merger, Morrisons is going to be left with a smaller market share than its competitors. However, it is low on debt and in a strong position as it owns most of its stores so doesn't really have the over rent problem which is an issue currently facing many of its competitors."