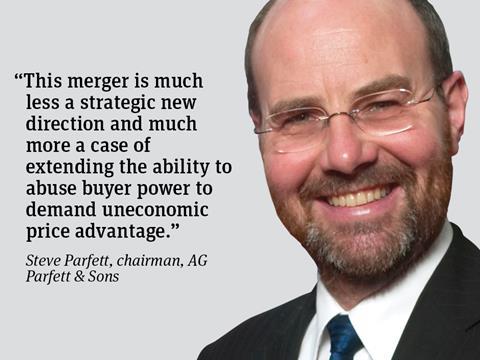 Did the CMA intend to fundamentally change the UK grocery market when it waved Booker-Tesco through or was it just gross incompetence? It certainly cannot say it was not told of the implications
It seems clear to me that not only are suppliers bullied by Big Grocery, but so are governments, especially one obsessed with Brexit to the exclusion of anything else. Already the CMA decision has massively contributed to the failure of P&H, and now we have the prospect (on past evidence a racing certainty) of a further capitulation to Sainsbury's-Asda.
Since the last Competition Commission inquiry an uneasy truce has existed with there has been reluctant acceptance of the dominance of four major supermarkets and a similar acknowledgement of the imperfect "two market" definition separating grocery wholesale from retail. A bomb has been exploded under both scenarios.
Wholesale and retail are now effectively one market for procurement and we have a duopoly in the retail market. No other developed economy has a more concentrated grocery sector.
Despite the protestations of Mike Coupe, it is clear the merger proposal is purely a defensive reaction to Booker-Tesco, itself driven by concern about the elephant in the room: Amazon. It is not insignificant that as one American business creates havoc another that previously provoked similar if less strong anxiety, Walmart, backs off having failed to deliver the dominance once anticipated.
It is also clear this merger is less a strategic new direction and more a case of extending the ability to abuse buyer power to demand uneconomic price advantage. Since Sainsbury's and Asda will, by their own admission, be run separately and not divest stores, the only logical reasoning is that suppliers, already reluctant to risk de-listing in one of four dominant players, will be unable to risk that happening in either Booker-Tesco or Sainsbury's-Asda.
Among other things it does not achieve is any new answer to the threat of Amazon. It also perpetuates, particularly in Asda, the business most affected by hard discounters, the reliance on superstores which are too cumbersome to compete with the highly focused Aldi and Lidl.
This is likely to be the end of the beginning rather than the beginning of the end. Morrisons, the one multiple doing better recently by sticking to its strengths, will have to react, as presumably will Co-op-Nisa. Will the Morrisons and Amazon relationship become more significant?
In wholesale too, we are seeing massive change. Most of us are just picking ourselves up after the turmoil resulting from the failure of P&H and Bargain Booze, and the Costcutter supply chain disruption. Further consolidation in all these markets is inevitable.
With that in mind, branded suppliers face a stark choice. The discounters are largely about own or copy-cat brands, so I ask more urgently than ever before: Do you want all your eggs in two ­baskets, or will you recognise the importance of a diverse market that supports brands and wants to work with you?
Steve Parfett is chairman of AG Parfett & Sons