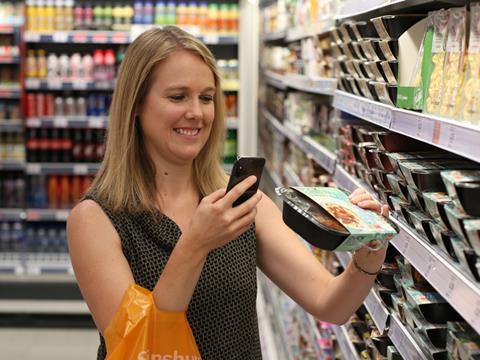 Sainsbury's is extending its trial of checkout-free payment technology to its Clapham North station Local store.

During the new trial, customers can scan and pay for products using an updated version of the supermarket's Smart Shop app. Shoppers will be able to create their shopping list, then use free in-store wi-fi to scan items' barcodes as they go. They then scan a QR code on the way out of the store, at which point their Apple Pay account is automatically charged for the scanned items.
An initial trial at Sainsbury's Local store in Euston station allowed customers to use the older Smart Shop app to scan and pay for the three items making up a lunchtime meal deal. The new trial, however, allows shoppers to purchase the full range.

The Smart Shop scan, pay and go app, which launched last week, has been developed in-house to help customers save time and shop conveniently, Sainsbury's said, and follows extensive research, development and user testing. Customers not wishing to use the technology can shop in the regular way and pay at either employee-manned or self-service checkouts.
The retailer said it will use customers' feedback from the new trial in Clapham to develop and improve shoppers' experiences before testing the technology in different stores types and Locals over the coming months. It is conducting the trial in a bid to harness the contactless transactions trend, with almost a third (30%) of payments expected to be contactless by 2020, according to figures from Juniper Research.
Sainsbury's Smart Shop app, which allows shoppers to pay for their shopping at a designated till point after they have scanned products on either the handsets provided or a smartphone, is already available in 68 of its stores.

"Technology and changing customer shopping habits have transformed the way people buy their groceries," said Sainsbury's group chief digital officer Clodagh Moriarty. "Our teams are constantly working hard to bring new convenient shopping experiences to customers and we're delighted to be the first grocery retailer in the UK to offer customers the ability to shop checkout-free. The latest version of Smart Shop will make it super quick for customers to get in and out of the store for those who want to scan, pay and go."

The supermarket added that the new technology could allow its employees to "perform more flexible roles and help customers in different ways across the store."

This news comes just over six months after Amazon launched the world's first checkout-free grocery store, Amazon Go, in Seattle, Washington. Its customers have to scan the Amazon Go smartphone app linked to a payment card which is charged automatically for the items they pick up, and pass through a turnstile to shop in the store.