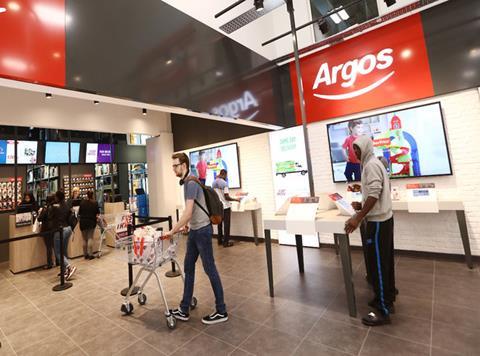 Sainsbury's has set out plans to transform a third of the Argos estate into digital stores over the coming year.

Over 60 stand-alone Argos stores will become digital, meaning catalogues are replaced with iPads and tablets, and customers will be able to pick up a choice of 30,000 products from its FastTrack desks.

The announcement comes as Sainsbury's opened its 50th digital Argos concession in its 76,000 sq ft Kiln Lane branch in Epsom, marking a further step towards its goal of opening 250 concessions by 2019.

Sainsbury's has so far reported encouraging results from its Argos concessions, with those that have been open a year racking up 20% to 30% like-for-like sales growth.

"The opening of our 50th Argos digital store just seven months after we acquired the company shows we are moving ahead at pace with our strategy," said Sainsbury's Argos CEO John Rogers.

"Our cutting-edge digital capability is a core strength of our business and our decision to transform 60 Argos stores by March next year moves our strategy on further. Over a third of the store estate will now benefit from cutting-edge digital technology that will improve the customer experience, making shopping faster and more convenient."

Sainsbury's also announced plans to open 10 more Mini Habitat concessions over the next financial year to assess the "full potential" of the format.

There are currently seven Mini Habitats across the estate, the latest of which opened in the Kiln Lane branch. The concessions offer a small selection of products in store and access to the full 4,500-strong Habitat catalogue via iPad ordering.