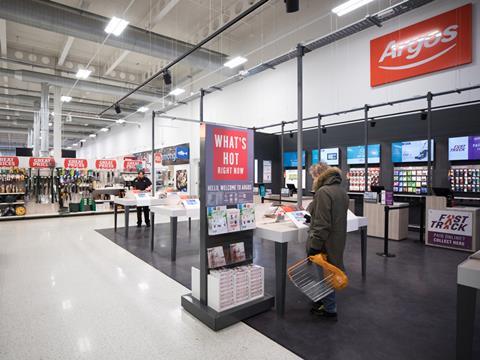 Sainsbury's Redhill store reopened in October 2017 after a three-year refurbishment that has seen it almost treble in size, to 61,000 sq ft. Keen to show it off, this week CEO Mike Coupe and the Sainsbury's board descended on the store for a tour to an assembled group of journalists.

The store is a "manifestation of Sainsbury's strategy", says Coupe. As well as enabling the store to fulfil online orders and offer click & collect (60% of orders originate online, but 80% are collected in store), the extra space has focused on creating a modern destination store. It boasts, inter alia, an Argos, Sushi Daily, Explore Learning tuition centre, and two pay-as-you-go outlets: a pizza counter at the back (which offers delivery and, in another radical departure, allows customers to pay using a contactless card without queueing at the checkouts) and a self-service coffee pod at the front.

But it's about more than just new concessions, and using the space better. There were updates on several aspects of the strategy, with board members conducting mini tours to explain the strategy and showcase progress in detail.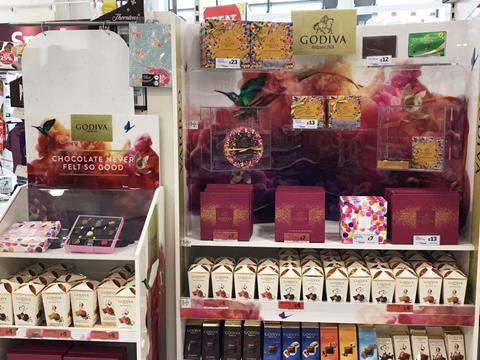 Food
Two thirds of the new store is dedicated to food. It is the "cornerstone" of the business, says Coupe. And last week it lowered the price of 930 lines. Very little was said about this. "Retail is based on a balance between good prices and justified premiums," said Coupe. And the focus for Paul Mills-Hicks, food commercial director, was in highlighting examples of the "justified premiums".

In the meat aisle, for example, he referred briefly to mince - "the bestselling line in grocery" - and the fact it had lowered the price by 30p on a 400g pack (to £2), but it was a "hygiene factor" and he was more keen to point out new cook-in-the-bag chickens, introduced as "customers said they didn't like to touch raw meat", as well as easy-to-prepare ribs. He was also keen to show off the exclusive Godiva chocolates range.

The only real mention of price came in highlighting "mission plinths" on gondola ends - conceived to help consumers shop for the Easter weekend. The first showcased a variety of breakfast items, as it was "a key family occasion over the holiday"; the second selected items for a pizza night for similar reasons. But crucially, said Mills-Hicks, Sainsbury's had eschewed the "perceived wisdom of retail consultants" in not offering items on a multibuy. Highlighting the variety of red (discounted) and white (non-discounted) tickets, he asked: "why should shoppers be forced to buy items they don't want?"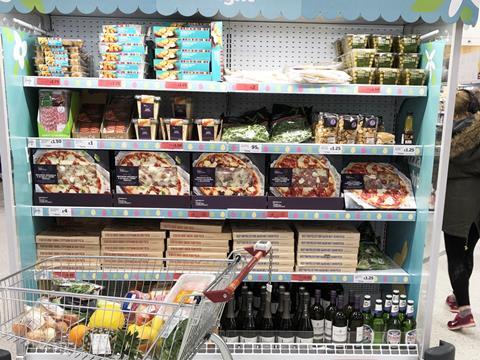 Partners and blueprints
The Redhill store has many of the latest fixtures and concessions, including the newest: Patisserie Valerie products (integrated into its bakery), have been introduced in 45 stores since December. But the key change, says Graham Biggart, director of commercial operations, is there is "no blueprint".

"We used to come up with a concept, and then roll it out across the estate, but now what we're looking for is to update every store based on local demand and [demographics], and to refresh constantly but on a small scale, rather than waiting for the store to grow tired."
Store operations
With cost cutting a key strategic objective, store efficiency is playing a key role. Simon Roberts, retail and operations director, highlights the reduction from seven devices used for processes to just one as well as 'Top Stock', with stock housed now on top shelves. But the biggest challenge is in streamlining stores operations - while boosting customer service. Sainsbury's has some "sensitive people decisions to make," says Roberts. The first is to rationalise department leadership teams: thousands have applied for fewer but better-paid roles with added responsibility.

The second should in theory be easier: consulting with colleagues on a new hourly base pay increase to £9.20. "We've invested £100m in this step, so we'll expect greater flexibility from employees, perhaps working across different in-store counters, and a productivity increase," Roberts says. While the rate will make Sainsbury's staff the best paid in the trade, claims Coupe, "some will lose out", mostly as a result of ironing out inconsistent pay for very similar work.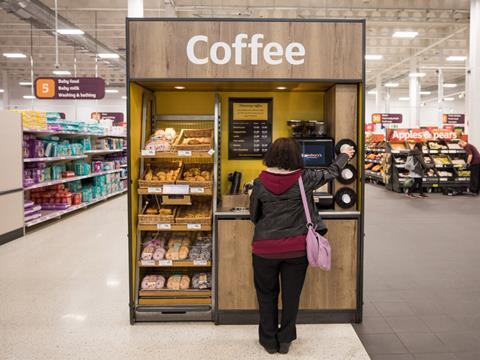 Online and speed
The internet and new technologies have been at the heart of many of Sainsbury's recent changes, including SmartShop - the self-scanning system is now available in 45 stores, with mobile holders in trolleys in four stores, "which we may roll out further" - and Chop Chop, its one-hour delivery service.

Online director Clo Moriarty again stresses the impact of efficiency gains such as faster loading speeds and lower marketing spend, as much as "helpful intervention" such as personalisation to boost sales.
Argos
Since Sainsbury's £1.4bn takeover of Argos in April 2016, 200 Argos outlets have opened in Sainsbury's stores, putting the plan one year ahead of schedule, and resulting in a 15% sales uplift year on year. Its fast-track service, allowing customers to buy 20,000 products and have them delivered in two to three hours, is a step ahead of massive online competitors, including Amazon, Sainsbury's claims.

The "distinct business model" has resulted in it having between 6% and 7% market share, says John Rogers, Argos CEO. And in a new development announced this week, Argos will sell Sainsbury's entire Tu clothing range via its website from 25 April.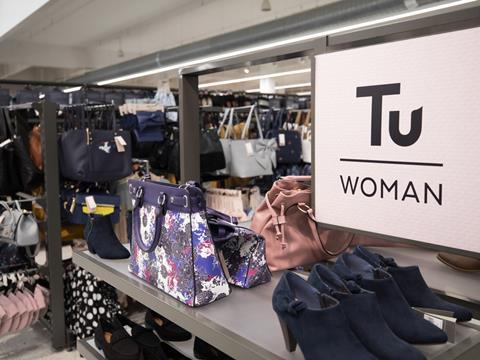 Fashion
Customers will be able to order Tu clothing online by 2pm for next-day delivery or free click & collect from 1,100 stores.

The move can only build on the progress of the brand, says Anne Clark, head of womenswear buying for Tu. With eight million customers, and close to £1bn of annual sales, it's the UK's sixth-biggest player by volume in fashion and the 10th by sales, as it offers high street style at supermarket prices roughly 20% cheaper."