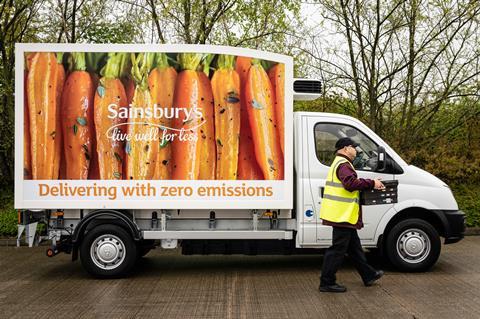 Online grocery sales have yet to reach their "high watermark", Sainsbury's new boss said today, despite massive growth seen during the pandemic and UK lockdown measures easing.
Sainsbury's e-commerce grocery sales soared 87% in the 16 weeks to 27 June, and 130% in June alone. The supermarket has significantly ramped up capacity for weekly orders to more than 650,000 slots, compared to about 350,000 at the start of the coronavirus crisis.
It drove a 10.5% jump in Sainsbury's total grocery sales in the quarter.
The supermarket has scaled its online operation by adding almost 200 new click & collect locations, as well as recruiting thousands of extra pickers and drivers.
Online now accounts for almost 17% of Sainsbury's total grocery sales, up from 7% prior to lockdown.
Nevertheless, the full potential of online sales had not yet been reached, CEO Simon Roberts said.
"We are still seeing the demand continue, so I don't think we reached the point yet where we have seen the high watermark," said Roberts, who took over from Mike Coupe on 1 June, in his maiden trading update as CEO.
"Our priority is to serve customers in the way they wish to shop with us. We are continuing to look at what we need to do to make sure we can satisfy that demand. The demand is growing. Customers are enjoying shopping online. We need to prepare for substantially more customers wishing to shop online than we saw at the beginning of this crisis."
The investment in online has helped Sainsbury's win switching gains from Aldi and Lidl in the first quarter, with almost 50% of new online customers also being new Sainsbury's customers, according to Roberts.
Meanwhile in store, Sainsbury's has seen a significant uptake for its scan and go technology during the pandemic. SmartShop, which lets customers scan their own groceries and use a separate checkout, reached 37% of sales on average, exceeding 50% in some stores, during the quarter.
Total retail sales for the quarter rose 8.5% (excluding fuel), with like-for-like sales up 8.2%. However, CFO Kevin O'Byrne said the true like-for-like increase was closer to 19% when excluding the 573 standalone Argos stores closed during lockdown from the figures.
Argos sales jumped 10.7% in the period despite store closures as customers shopped online, with home delivery sales up 78% and click & collect sales up 53%.
The growth contributed to a 7.2% increase in general merchandise sales for the quarter, which were held back by a 26.7% drop in clothing sales.
Convenience revenues also slumped 5%, driven by "very weak" sales in city centre locations where trade is heavily driven by office workers and Sainsbury's has temporarily closed 26 c-stores. The downturn in the convenience business was partially offset by "very strong" sales growth in neighbourhood locations.
Sainsbury's is also forecasting a £500m hit to profits from increased costs linked to coronavirus, including higher labour costs, investment in safety measures and ramping up online capacity. The majority of the profit impact is expected to be offset by business rates relief and stronger grocery sales.
Roberts said the supermarket's price position had continued to improve in the past 16 weeks, with prices lowered on 200 lines during the crisis and the price lock campaign now including almost 1,000 products.
"With rising unemployment and real pressure on consumer spending, we have got to make sure we continue to make our offer really relevant and right for customers," he added.
"The coming weeks and months will continue to be challenging for our customers and our colleagues and we do not expect the current strong sales growth to continue. A number of the decisions we have made have materially increased costs but meant we have done the right thing for our customers and set us up well for the future."