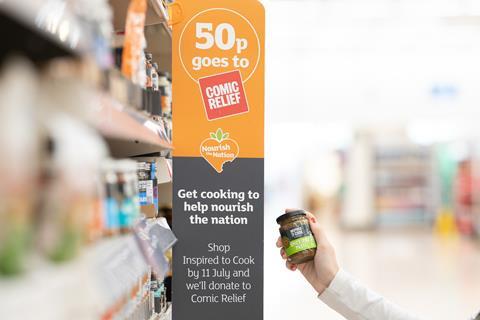 Sainsbury's is to donate 50p from every item sold within its Inspired To Cook range to Comic Relief as part of a new temporary initiative to tackle food poverty.
The supermarket hopes the campaign, which runs for six weeks between 31 May and 11 July, could contribute around £3.5m to its Nourish the Nation Programme, its charity partnership focused on improving access to healthy and well-balanced food first launched in November 2022.
Sainsbury's will advertise the donation drive with PoS signs in store, and has also released six new recipes using ingredients from the range.
"Through Nourish the Nation, we are committed to ensuring the communities we serve have access to balanced, nutritional, and sustainable food sources," said Sainsbury's director of corporate responsibility and sustainability Ruth Cranston.
"The donations from our Inspired To Cook range is just one of the ways we are working to further support the vital work of Comic Relief, while also inspiring our customers to explore new simple, tasty and nutritious meals to add to their weekly repertoire."
When the grocer first launched its Inspired To Cook ingredients range in March 2022, it was marketed as being designed to remove some of the barriers to home cooking, and encourage more customers to cook from scratch.
The donated funds will be used to support Comic Relief food clubs and fund programmes to stop people falling into food poverty.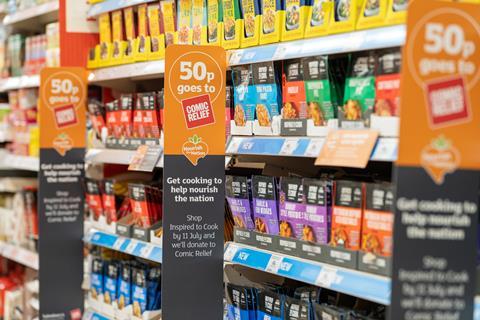 "Right now, communities need our support more than ever as millions of people across the country continue to face the most difficult times in their lives due to rising costs of living," said Comic Relief CEO Samir Patel.
"We are hugely grateful to Sainsbury's for their support in helping us reach more people struggling with access to food at this crucial time, here in the UK and internationally."
The new campaign comes as latest figures from the BRC show that food inflation is running at its second highest level on record, falling slightly from 15.7% to 15.4% in May.
Sainsbury's CEO Simon Roberts has dismissed claims that supermarkets have been profiteering from the cost of living crisis, and promised further investment in value across Sainsbury's stores over the next year.
The supermarket relaunched its value own-brand range last week, under the Stamford Street label. The move will see all of the grocer's existing lower-tiered own-labels move under the single banner in the hope that it will help customers more easily spot value on shelves.
It followed the launch of a new value campaign across Sainsbury's c-store network in April. As revealed by The Grocer, Sainsbury's introduced PoS signs and banners to stores promoting 'Pocket Friendly Prices' on household essentials and own-label items including chicken breasts and cherry tomatoes.