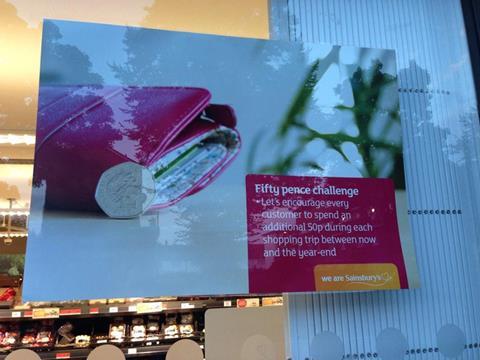 Sainsbury's has come under fire on social media after a poster was displayed in one of its stores calling on staff to encourage shoppers to spend an extra 50p.
The poster, displayed at its Stratford store in London, was for a staff initiative called 'Fifty Pence Challenge' and read "let's encourage every customer to spend an additional 50p during each shopping trip between now and the year-end".
The poster was initially tweeted yesterday by @mynameischrisd, who said: ".@sainsburys not sure this is supposed to be in your window…" It is now trending with the hashtag #50pchallenge.
Subsequent tweets have included "Dear @sainsburys My goal is to find a store where sales assistants don't hassle me to buy things I don't want. #50pChallenge" and "Just went to @sainsburys wasn't asked if I'd like to spend an extra 50p! What's up with that? My 50p not good enough for you? #50pChallenge".
Sainsbury's would not give further details about the challenge, but said in a statement: "We often use posters to make store targets fun and achievable for our colleagues. They are intended for colleague areas in the store, but this one was mistakenly put on public display."