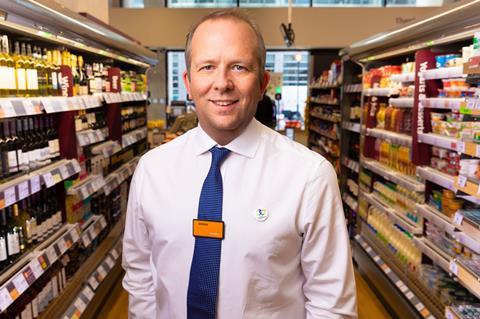 Sainsbury's focus on value is a key priority for the company as customers are becoming "a bit more cautious and watching every penny", CEO Simon Roberts has said.
On Thursday, the supermarket reported soaring pre-tax profits of £854m in the year to 5 March (compared to a loss of £164m last year), as well as an increase in overall group sales of 3.4% year-on-year to £32.9bn that was partly driven by a spike in fuel costs.
Excluding fuel, retail like-for-like sales were down 2.3% over the year.
Despite the increase in full year profits, Sainsbury's warned profitability would fall back this coming year amid rising food and fuel costs and growing inflation.
Roberts said the "early signs" of mounting living costs were already visible, and that Sainsbury's was "working really hard" with its suppliers to mitigate the inflationary pressures and reduce the price increases being passed on to customers wherever possible.
Earlier this month, the Office for National Statistics said inflation reached 7% in March amid a record high increase in fuel costs, as well as soaring energy and grocery prices.
"What customers are looking for is value they can trust and rely on, and that they can see the value on the shelf", Roberts said. "And it's really clear that's one of the things we've committed to over a long period of time."
Roberts added he was to plough ahead with the "Food First" strategy while focusing on making healthier products, such as fruit & veg, more affordable for customers via its value-focused initiatives – Aldi Price Match, Price Lock and Nectar Prices.
The retailer increased the number of fresh lines available in its Aldi Price Match campaign earlier this year. Of the nearly 250 products that Sainsbury's is matching to Aldi, 150 are now fresh.
Recently, The Grocer reported that Sainsbury's offered the cheapest Grocer 33 shop for first time in nearly two years. But rivals Asda and Morrisons have both announced a raft of price cuts earlier this week as the supermarket price war intensifies.
The Sainsbury's CEO also said that prevailing supply chain shortages coupled with the Ukraine conflict had built further strains across key food production areas such as fertiliser and cooking oils, but that the retailer was "working really closely with our producers to stem the tide of that as much as we can".
He added that it was still "inflating behind others in terms of prices" particularly for products that customers bought the most.
The shortages in cooking oil derived from Russia's invasion of Ukraine, one of the world's largest producers of sunflower oil, have led to many supermarkets implementing a limit on the number of units each shopper can purchase.
But unlike Tesco, Morrisons, Waitrose and Iceland, Sainsbury's had "no plans" to ration cooking oils for the time being, Roberts said.
However, he added the company was closely following the situation in eastern Europe as it was set to further increase fuel costs as well as prices for other key commodities such as wheat and barley.
Furthermore, the growing cost of living crisis was also set to impact discretionary spending, namely the Argos business and overall general merchandise sales.
"Volumes will be down this year and it's the reflection of those volumes that we've modelled in our [profit expectation] range.
"One of the things about the Argos brand is that customers really trust it to be good value, so we're really focused on availability and we're really focused on making sure customers can see the value in that offer too."
Despite the drop in profit expectations, Sainsbury's said the completion of the Argos transformation plan, its investment in value, and its cost savings strategy meant it was well positioned to weather the challenges of the year ahead.
Roberts said: "Grocery demand won't be at the same level as it as it was at last year, for all the obvious reasons, as normalisation of how we shop continues.
"When we look to the year ahead, our plan is to make sure we're competitive."