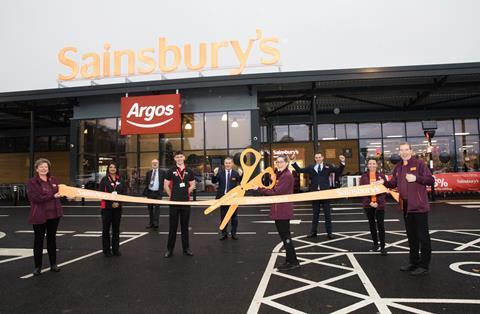 Sainsbury's opened a new environmentally-friendly store in Brackley, Northamptonshire last week.
The supermarket giant has placed a key focus on reducing water usage in the branch, and has installed water meters to track water flow, water-saving taps, reduced-flush toilets and urinals without water.
The 20,000 sq ft branch reuses heat to generate hot water and heating, and has demand-controlled ventilation that varies depending on the heat in food production areas. Rather than a regular on/off function, these ventilators automatically extract the air needed from an area depending on the number of ovens in action at one time, making them more energy-efficient.
It also features a bee hotel designed for bees to nest and breed, electric vehicle charging points, LED lighting, and energy-efficient fans to minimise electricity and heat consumption.
Sainsbury's said the branch was one of its "most eco-friendly stores in our estate," and came as part of its ambition to be net zero across its operations by 2040.
The store sells more than 13,800 products, including plant-based and meat-free items, ready meals and food to go, and features an in-store Argos.
The Northamptonshire branch was part of a busy November for Sainsbury's in terms of new stores. It also opened two neighbourhood hub c-stores in Bishop's Waltham, Hampshire and Midhurst, West Sussex, which are designed to give customers a blend of its convenience and supermarket offer, as well as a Fresh Food Market-style branch in Hempstead Valley, Kent last week.
"We're very excited to be adding another store to our estate so we can serve the Brackley community fresh and affordable food," said Patrick Dunne, property director at Sainsbury's. "We have a strategy to put food first and this new and modern store will make it very convenient for residents to shop for delicious, nutritious and great-value food seven days a week."
Paul Dyer, store manager, added: "We have a very excited team who can't wait to get to work to provide local customers with a great fresh offer alongside the convenience they need. Everyone has worked very hard during training and to get the store ready to open for our first day in business."