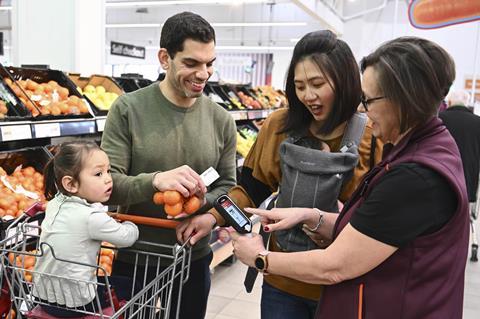 Sainsbury's CEO Simon Roberts has promised further investment in keeping prices low, insisting that the retailer's efforts to curb inflation have left it the most competitive on price it's been for years.
The supermarket invested £560m in keeping prices low over the past two years, which was £10m more than the grocer had committed to in December, and £16m more than the retailer originally planned as it battled to stop customers switching to discounters during the cost of living crisis.
Group sales rose by 5.3% in the full year to £35.2bn driven by inflation, while underlying profit before tax fell 5% to £690m, albeit this was at the top end of guidance of £630m to £690m and up 18% on pre-pandemic levels.
Retail like-for-like sales, excluding fuel, increased by 2.6% compared with a 2.3% decrease last year.
Grocery sales were up 3%, driven by inflation and improved market share performance, with Q4 grocery sales up 7.4% as inflation increased.
Statutory pre-tax profits fell to £327m from £854m as the group was impacted by non-cash asset impairments of £363m, driven by a higher discount rate due to interest rate hikes, £106m of restructuring charges, and one-off income from legal settlements in the prior year.
"Our food first strategy is working," Roberts said. "We're a fundamentally stronger business and we're making bold decisions to reduce our costs and invest in our customer proposition. That combination of low prices, exciting new products and great service really is winning with customers."
Over the past year Sainsbury's has extended its price match scheme with Aldi, launched its own Clubcard-esque Nectar Prices, and added 20% more own-brand lines to its price lock campaign after seeing a rise in demand for its entry-level own-brand ranges, Roberts said.
Over 60% of the value investment was into fresh products, including veg, fish and poultry, Roberts added. It comes alongside wider investments in its workforce as well as £66m for helping farmers over the last year.
"The result is that we are more competitive on price relative to our peers than we've been in many years," Roberts said.
Sainsbury's is inflating at "less than half" of the headline 19% rate of food inflation, and around "1%-2% behind the market", he said.
Sainsbury's had been able to bring strong value as a result of working very closely with its suppliers, Roberts said, and would continue to do so in order to combat inflation.
"Every single opportunity to keep prices down we've got to take it," Roberts said. "That means robust conversations. But it also means giving suppliers opportunities to access more customers, drive their volume and, as a result, put as much value in the offer."
Roberts declined to put a figure on any future planned investment into prices.
Roberts also said he has been encouraged by the reaction of customers following the launch of its Nectar Prices loyalty scheme in April. Customers can currently receive discounts on around 450 household goods and grocery products in stores and online, alongside more personalised offers.
While the grocer has been placing growing emphasis on growing its footprint of Local convenience stores, Roberts maintained the initiative remained "very much focused on supermarkets and online" at this stage.
"We've very much started to focus Nectar in our supermarkets and online because that's where customers are doing the bigger shops," Roberts said. "As we think about our strategy – which is to encourage more secondary customers to come back to a bigger shop – that's the reason we put the activity first in supermarkets and online," Roberts added.