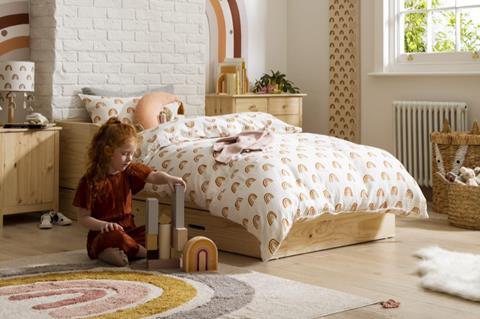 Sainsbury's is relaunching its Habitat homeware brand online and in supermarkets.
The retailer said it is revamping the entire Habitat brand, with plans to grow it to become a £1.5bn business by 2025.
The brand's new marketing campaign, which will launch from this month, will focus on positioning Habitat as a more affordable name in the furniture and homeware market.
"We're really excited about all that is happening to relaunch Habitat as our main home and furniture brand. Our plan to put food back at the heart of Sainsbury's only works if our other brands deliver in their own right and so Habitat is an important focus for us," said CEO Simon Roberts.
Sainsbury's bought Home Retail Group, which included Habitat and Argos, for £1.4bn in September 2016.
But the furniture brand, which was founded in 1964 by Sir Terence Conran, saw many of its stores close since then – including its flagship store in Tottenham Court Road, London.
The grocer is now hoping to reach a wider audience and drive revenues by making Habitat "more accessible and affordable for everyone", Roberts said.
Read more: What's the plan for Sainsbury's following £261m loss?
Sainsbury's also announced a new children's furniture line as part of the wider relaunch. The range, called Habitat Kids, is set to launch online and in selected stores in the coming weeks.
"I am delighted we are able to bring more of our Habitat ranges to more customers in our stores and online," said Sainsbury's general merchandise and clothing commercial director Paula Nickolds.
"It's really exciting to be working with colleagues to launch the new brand campaign and to launch the next phase of the iconic Habitat brand."
Habitat falls under Sainsbury's "brands that deliver" umbrella, alongside Argos, Nectar, Tu and Sainsbury's Bank.