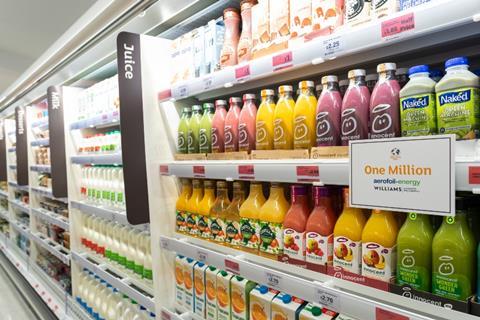 Sainsbury's has announced it is rolling out its in-store flexible plastic recycling system to 520 stores across the country.
The retailer's scheme, which allows customers to drop all flexible plastic packaging at in-store points, is set to expand following a successful trial in north east England.
"We're really excited to announce the mass rollout of the flexible plastics recycling scheme in over 520 of our stores, helping our customers to recycle more of their plastic packaging, instead of it ending up as waste," said Claire Hughes, Sainsbury's' director of product and innovation.
"Making recycling easier for our customers is a key part of our strategy to minimise the impact of single-use plastics on the environment."
Flexible plastics such as salad bags, crisp packets and biscuit wrappers are accepted in kerbside recycling collections by less than 20% of local authorities, according to recent Wrap estimates.
In May, the sustainability charity published new guidance aimed at encouraging retailers to introduce and scale up in-store recycling points for soft plastics. Supermarkets to offer them include Tesco, which introduced them in 171 stores in March ahead of a planned nationwide rollout, and Aldi, in 20 trial stores since May.
Sainsbury's rollout follows its announcement in May that it was joining the Flexible Plastic Fund, a new initiative aiming at helping create a nationwide soft-plastic recycling network ahead of government plans for more consistent collections of such materials by 2026. Waitrose, Mars UK, Mondelez International, Nestlé, PepsiCo and Unilever are also backing the fund.
Other initiatives from Sainsbury's to decrease plastic usage include working with Prevented Ocean Plastic to repurpose ocean-sourced plastic into packaging for some of its own ranges, as well as removing single-use plastic bags from loose produce.
Sainsbury's in-store flexible plastic recycling system is part of its wider plans to halve plastic packaging consumption in its operations by 2025.