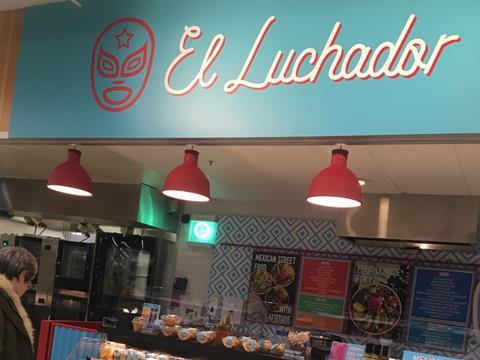 Sainsbury's is continuing its push into the foodservice market by trialing a Mexican street food counter at its Balham, South London branch.

The new fixture, branded as El Luchador, offers prepared lines such as salads and soups, as well as sides including chicharróns, pico de gallo, corn on the cob, and fresh guacamole with tortilla chips.

This comes alongside made to order meat-based or vegetarian main courses, such as jackfruit chilli with smoky chilli sauce, Mexican cowboy stew, picadillo, ceviche aguachile and Mexican bean and sweet potatoes with quinoa.

It also offers customisable sort corn tortilla tacos that customers can fill with their choice of meat or vegetables to their desired heat of mild, spicy or very hot. The tacos are topped with salsa, fresh herbs, fresh lime juice and a choice of Mexican-inspired dressings such as jalapeno, chipotle dressing and ranch. These dressings can be added to other products as well.

Prices range from £4.95 - £7.95 for hot main meals, £4.95 - £6.45 for cold main meals, £2.25 - 3.25 for salads, £2.75 - £3.25 for soups, £1.25 - £4.25 for sides, £2.25 - £3.95 for desserts, and £1.75 - £2.25 for drinks.

The El Luchador counter, which was installed this month, has been implemented in partnership with Hana Group exclusively for Sainsbury's. The companies have previously worked together for Sainsbury's Sushi Gourmet counters, as well as the food market kiosks for Wok Street and Little India Kitchen at its Selly Oak, Birmingham store.
Sainsbury's said El Luchador was installed to give customers "a new and exciting Mexican food proposition."

A spokeswoman for the supermarket told the Grocer: "We're currently trialing an El Luchador counter in our Balham store, which offers customers a new and exciting range of Mexican food, exclusive to Sainsbury's. This is the first time we've introduced the offer to customers and we welcome their feedback."

This is the latest of supermarket's third-party concessions, as it already has foodservice partnerships across its store estate with the likes of Crussh, Ben & Jerry's and Carte D'Or.

The addition of the El Luchador fixture replaces the Balham store's Zizzi pizza counter. It offered hand-stretched, made to order pizzas, and shoppers could order the pizzas in store, on Zizzi's website for in-store collection, or via Deliveroo for delivery at home.

It was the only Zizzi pizza fixture in Sainsbury's store estate.

The spokeswoman said of the closure: "We're always trialing different services and the results from this will help us to further improve our range."