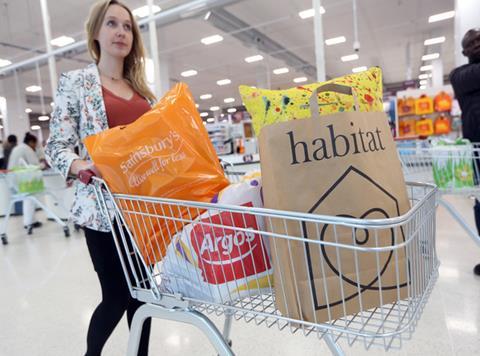 This year more than ever, there was a palpable sense of anticipation ahead of Sainsbury's annual results: what rabbits could Mike Coupe pull out of the hat to satisfy investors who were smarting from the vetoed Asda merger and a struggling share price? The obvious answers would be some good news on underlying earnings and the dividend, and he delivered on these.
Some onlookers were seemingly nonplussed by the absence of a Plan B following the collapse of the Asda deal, but it is hard to fathom quite what they were expecting. Coupe pretty much offered up all he could: pursuing the group's strategic plan and setting out some measures to continue what they were doing pre-Asda and endeavour to do it all a little better.
The news that the business will be investing to refurbish or enhance 400 of its supermarkets is more than welcome. There is real scope for store improvements to be much more than shoving an Argos in the corner and a sushi counter somewhere else, so the revelation that we'll see improved beauty departments, health & wellness aisles, better integrated fashion and home sections and enhanced foodservice propositions is music to my ears. Selly Oak is a phenomenal concept and the drip-feeding of some of this best practice across the estate could make Sainsbury's worth crossing the road for again.
I guess one of the elephants in the room is Sainsbury's insistence that store standards and availability are just mighty fine, when there is plenty of personal and anecdotal evidence that this is not always the case to say the least. I guess time will tell if these operational improvements are built to last, but I really hope that Sainsbury's can return to former glories: a premium experience that is worth the shopper's investment in terms of both time and money.
Welcome news too that investment in digital will continue. Thanks in part to the Argos acquisition, Sainsbury's has become a bit of a leading light in digital, and one hopes that they can build on some of this learning. From what I've seen of the more digital Nectar scheme pilot in Wales, the more personalised and user-friendly approach to loyalty could be just what the doctor ordered: shoppers tell us that they want a more tailored loyalty proposition and they want it to be convenient to use. The new Nectar app looks just the ticket.
In a bit of very handy timing, the results were preceded by the opening two days before of the pilot 'till-free' concept in the Local store opposite the retailer's headquarters. I popped in this week to take a look and was more than mildly impressed. Once shoppers have got through the initial faff, the new system will be incredibly seamless and will significantly reduce friction for frequent customers. By no means a silver bullet, the store nonetheless demonstrates that Sainsbury's is working hard to innovate and improve the shopper experience. More of this please.
Increased investment in its stores and a renewed focus on digital is much-welcomed news and will hopefully see Sainsbury's moves pay off. However, its insistence that store standards are fine, despite evidence to the contrary, will hold it back for as long as it takes for Sainsbury's to address longstanding issues. Only time will tell what awaits Sainsbury's in the year ahead, but in light of all these moves, I for one am optimistic.