Sky-high costs associated with the pandemic and the restructuring of Argos saw Sainsbury's slump to a £261m pre-tax loss for the year to 6 March 2021, according to results this week. But aside from that headline figure, what do its full-year results tell us about the retailer's progress under its 'Food First' strategy?
The finances
Sainsbury's CEO Simon Roberts insisted this week that the "business is in good shape and has a lot of potential". This may seem slightly odd for a company that has just posted a £261m pre-tax loss – especially in a year when sales have rocketed due to the pandemic. But he probably has a point.
The numbers are hugely affected by more than £600m of exceptional costs related to its transformation plan to integrate Argos more closely with its core supermarkets business. When Sainsbury's first set out its transformational ambitions last November, it warned of costs reaching around £900m to £1bn over the next few years. The retailer said this week it was likely that the remainder of this would be factored in at a rate of around £100m per annum for the next three years.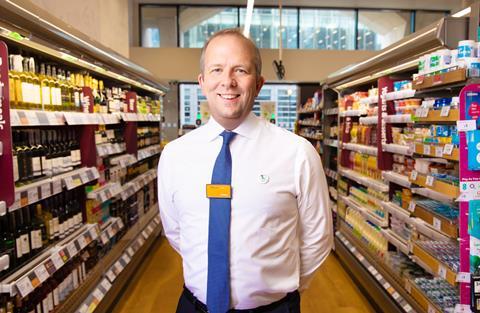 Although underlying pre-tax profits slumped 39% to £356m in the year to 6 March, this number was also seriously impacted by the £485m Sainsbury's ploughed into Covid-related measures to keep staff and customers safe.
Profits are expected to come back strongly in the current financial year, with a forecast for underlying pre-tax profits of about £620m, comfortably exceeding the £586m logged in the 2019/20 period.
Despite these positive forecasts, Roberts still expressed a note of caution.
"Like our customers, we are all looking forward to things feeling more normal over the coming months and getting excited about a summer of celebration, but we are also cautious about the economic outlook," he said.
Stores and range
In November, Roberts unveiled his strategic vision for Sainsbury's – a key part of which involved the retailer going back to its foodie roots under a 'Food First' plan.
In a move that seemed contrary to that ambition, Sainsbury's at the same time confirmed it was permanently shutting down its in-store meat, fish and deli counters due to "reduced consumer demand".
The counters remain shuttered and the space unused and this week Roberts admitted that redeveloping those spaces have "not been its top priority" as the retailer continued to worked through the difficulties of the pandemic, particular the third wave that hit the UK around Christmas.
He said the move was however showing positive results, in terms of lowering the cost to sell of many of the items that would previously have been only available over counters, including whole salmon, which Sainsbury's has begun selling directly from the shelf for the first time.
Roberts says innovation is key to Food First. Sainsbury's has "put foundations in place to deliver a faster and stronger pipeline of innovative product development" he revealed.
Sainsbury's says it has been able to increase the speed to market of NPD by 30% through working more closely with its suppliers. It even has the capacity to bring a new product from concept to the shelves within four weeks, should the need arise. The supermarket is planning to launch 1,900 new products in the next 12 months and improve a further 2,000 lines.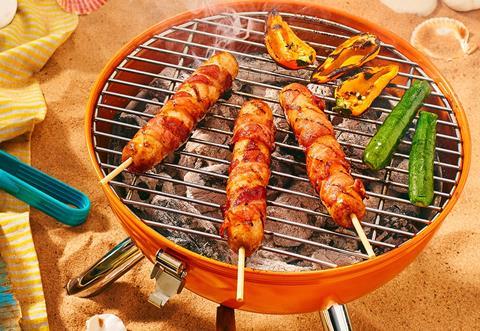 Range is only one element of the Food First Plan. Another key ingredient is value for money and customers' perception of that value.
This, says Roberts, is being addressed via four main levers. Firstly, its Price Lock programme, which Sainsbury's extended to 2,500 products in January. Secondly, it has recently extended its range of entry-level brands that have replaced its Sainsbury's Basics value own-label offer over the past couple of years. The 250 products now include a number of extra dairy lines and Roberts says he doesn't expect too many more additions.
Thirdly, Sainsbury's has invested in lowering prices on products that feature "at the centre of the plate" – core own-label products across fresh lines, and in particular meat, fish and poultry. Finally, there's the Aldi Price Match initiative, which covers 250 products.
The combination of all these measures is not only resulting in growth for the products involved – meat, fish and poultry sales are up 15% compared with pre-investment levels – but also creating a "halo effect" in terms of driving volume across its stores.
Online
Of course, the pandemic has driven a seismic shift in the way many consumers shop for groceries, most notably in the rapid growth of online. Sainsbury's, like its peers, has benefited from this shift. Before Covid, Sainsbury's had capacity to meet 340,000 orders a week. During the crisis, this figure reached 860,000.
In essence, Sainsbury's says it is winning at online. It cites Nielsen figures that show it has made the biggest gains in terms of online grocery market share – growing from 15.5% for the 2018/19 financial year to 20.8% for the 2020/21 period.
Its overall online grocery sales grew 120% to £3.6bn last year and, perhaps most significantly, Sainsbury's said it did this profitably. Online profit contribution to the total business has increased fourfold and Roberts puts this down to the retailer's store pick model.
After looking at other retailers around the world, Roberts says the "jury is still out" on a more local automatic fulfilment model, which is currently being championed by retailers including Tesco. While these involve a high level of automation, Roberts points out there is still a hand-picking element that will drive up costs and affect profitability. He says the demand for online to fall off slightly as lockdown eases further but expects levels to remain significantly higher than before Covid.
Convenience
Sometimes in retail, businesses can be ahead of the curve and really see what is coming round the corner and adapt accordingly – and sometimes it's just that circumstances change to suit what they were already doing – as was the case with The pandemic-driven rise in convenience shopping has proven a gift for the Sainsbury's Neighbourhood Hub format.
The larger convenience store format of between 5,000 sq ft and 7,000 sq ft comes with a wider assortment of groceries than a regular c-store, along with click & collect options for its Argos business, and seems tailor-made for post-pandemic shopping habits. The concept was actually launched two years ago, though Roberts says the format is working well as "the stores are generally closer to where people live and work". It currently has five of these stores and plans to open 18 more over the next three years.
As Covid-friendly as it seems, the concept was actually launched two years ago, before the pandemic hit. So far, progress has been measured and there are only five of these stores. But looking ahead, Sainsbury's plans to open 18 more over the next three years.
The stores look set to become even more crucial to Sainsbury's plans, after its overall c-store estate saw sales fall by 9.4%, as the rise of working from home took a toll on its urban branches.
However, Roberts says there are still plenty of locations to go for in terms of either Neighbourhood Hubs or the traditional Sainsbury's Local format. Overall it plans to open 25 to 30 c-stores annually for the next three years.
Argos and Habitat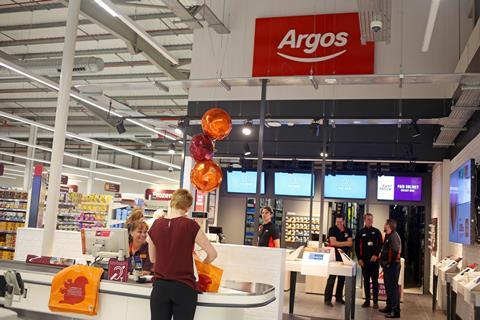 Sainsbury's says it wants 'brands that deliver', referring to the Argos, Habitat and Nectar arms of the business.
Of these, Argos is the main challenge. It will be the cause of the most upheaval as over 400 standalone stores are set to close in favour of ramping up concessions within its supermarkets. These have proven a strong football driver over the course of the pandemic – helping to drive up Argos sales by 10.9% in the past year.
Sainsbury's is looking to reduce costs further by consolidating buying power and functions across its supermarkets, Argos and Habitat operations, the latter of which is becoming its principal homeware brand.
The logic is clearly sound and progress is being made, perhaps even more quickly than some may have predicted.
As Shore Capital analyst Clive Black puts it, "Sainsbury's has been a genuinely surprising business, from a positive perspective, through the past year".
So far, the Simon Roberts plan appears to be working. Covid has clearly played a part, but it will be fascinating to see how his journey progresses.


Ronan is news editor of The Grocer.

Follow Ronan on Twitter: @ronyhegs