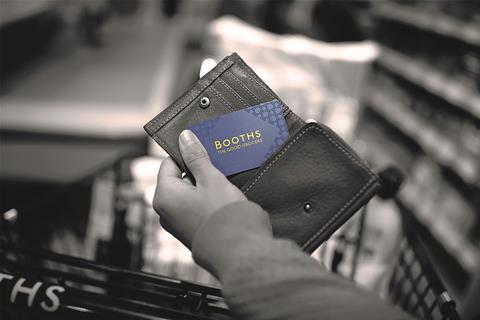 Booths is removing free hot drinks for its customers as part of an overhaul of its loyalty offer.
The new scheme, which launches on 2 September, will see the supermarket offer loyalty cardholders 5% off selected own label and branded products, regular money-off vouchers, savings on selected new products, member competitions, exclusive deals at in-store cafés and a free slice of cake when they purchase a drink from the café on their birthday.
However, it will no longer give out free hot drinks, and is ending the unlimited half-price hot drinks at cafés offer.
Also, where previously members would get the cost of a weekend newspaper taken off their receipt if they spent £15, the minimum spend will now be raised to £25.
The retailer has not been serving free hot drinks since the beginning of the pandemic. Like Waitrose, which has a similar loyalty offer, the coffee and tea machines have been decommissioned as a safety precaution against the spread of the virus.
Booths said the 5% discount would be available across thousands of own-label and branded products, including essential and luxury grocery lines, household and health & beauty items.
Shoppers will be able to see which products are currently part of the offer as they will be marked with a shelf-edge label featuring a coin and piggybank.
Booths insisted the changes were being brought in based on feedback from customers and that members would continue to benefit.
Existing cardholders will automatically be moved into the new scheme.
"We are delighted to unveil the new Booths card to our customers," said Booths card and customer insight executive Sarah Plevey.
"We have listened to what our customers wanted and it is important to us that we reward our customers for shopping at Booths whilst giving them exclusive experiences they wouldn't get anywhere else.
"To allow us to make room for our new rewards, we have had to say goodbye to some of our existing benefits including our hot drink offer and competitions. Nevertheless, we have ensured that the new Booths card will reward, inspire and treat customers throughout more areas of our store."