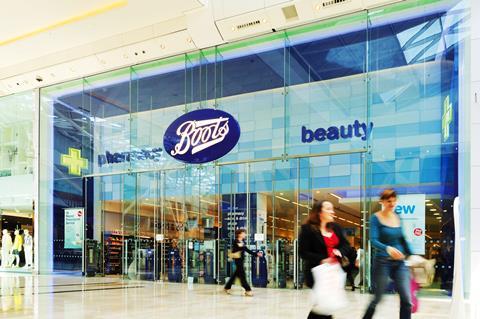 A member of staff finds a customer their essential products for them, so that they only have to pay

It comes as Superdrug stops restocking non-essential lines and closes fragrance counters

Both pharmacies said they were introducing social distancing in stores and Perspex screens at tills
Boots has banned browsing in some stores as high street pharmacies limit their offer to essential items.

Customers are informed at the entrance that browsing is not permitted and asked what they intend to buy. If they have come for essential items such as medicine, a member of staff finds the products for them, so that they only have to pay.

"People will notice lots of measures being taken by our store colleagues to allow them to focus on serving customers with prescriptions and essential need," said a Boots spokeswoman.

"In some cases our stores may cordon off areas of the shop floor, depending on their size and resources available," she added.

In other branches customers can still browse in a "self-selection area" but non-essential sales have been limited.

"We are prioritising the sale of essential medicines, prescription and essential toiletry items both in-store and online and have limited sales on some non-essential products including fragrance and beauty lines," said the Boots spokeswoman. "However, if a customer wishes to quickly pick up some additional products through our self-selection area in the store they should be able to do so."

Meanwhile, Superdrug has stopped restocking non-essential lines and closed fragrance counters.

"We are encouraging customers to purchase products through Superdrug.com and opt for the home delivery service where possible, unless it is absolutely necessary to travel to store for essential items or pharmacy prescriptions that are needed urgently," said a Superdrug spokeswoman. "We are only restocking everyday essentials and healthcare products.

"We have closed our dedicated fragrance counters, removed testers from stores and will not be replenishing stock of cosmetic or fragrance product lines from our warehouses."

The steps are among the most rigorous taken by essential retailers to prevent the spread of coronavirus during the lockdown. Both high street pharmacies said they were part of wider measures, also including social distancing in stores and Perspex screens at tills.

Supermarkets continue to sell general merchandise including food and electricals while Argos branches remain open in Sainsbury's.

Variety discounters have faced criticism on social media for still selling "hot tubs and garden furniture".

A petition calling for The Range to close has gained over 12,000 signatures.
Boots parent Walgreen Boots Alliance today announced its second quarter results to 29 February, including a 1.2% drop in Boots UK sales.