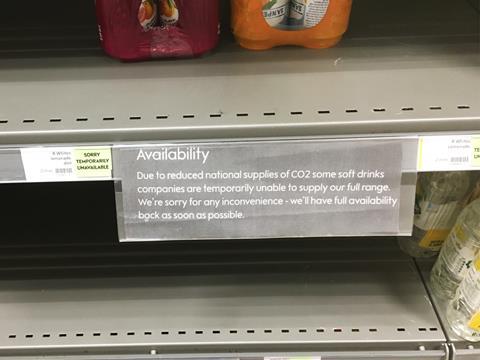 Soft drinks giant Britvic said this week its CO2 stocks had returned to normal following widespread shortages of the gas - but availability on several key fizzy drinks lines remains low, leading to frustration among some of its customers.

Branches of major supermarkets and one large London cash & carry depot visited by The Grocer in recent days all had large gaps where Britvic lines should have been. R Whites lemonade and Pepsi Max appeared to be hardest hit.sle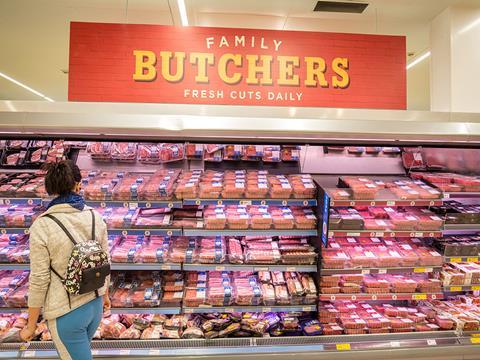 Meat & poultry sector back on gas
The worst of the CO2 supply crisis looks to be over for the meat and poultry sector, according to the British Poultry Council, with the UK's main poultry processors having switched back from electrical to gas stunning during the past few weeks.
While the supply situation was "not entirely back to normal", processors were becoming increasingly confident supplies of the gas were now holding up, said BPC chief executive Richard Griffiths.
Most major poultry processors eventually managed to secure small amounts of CO2 and switched to electrical waterbath stunning as a short-term solution to keep production going.
The BPC also lobbied government to ensure livestock-based sectors were given priority of CO2 supply on animal welfare grounds.
"Anyone who did switch to electrical stunning at the height of the crisis will have now moved back to gas stunning", Griffiths said.
"It looks like the prioritisation we pushed for the poultry sector is sticking," he added.
MySupermarket found that, as of Thursday 26 July, availability for Pepsi Max was as low as 18% at Asda. In Sainsbury's it was 63%, in Morrisons 67% and in Tesco 73%. For R Whites, availability in Sainsbury's was 67%, while in Tesco it was 74% and in Waitrose 86%.

The CO2 crisis rocked large parts of the food and drink industry, affecting everything from meat production to soft drinks and beer. However, wholesalers said while many of the issues had been resolved, supplies from Britvic remained a concern.

"Despite promise after promise, there is little sign of it getting better and we still believe that the issue in wholesale appears worse than the shelves in the multiples," said the MD of one major wholesaler.

Another source said: "Britvic are having major problems and we have suffered stock shortages as a result. We feel that poor forecasting and shareholder demands for 'just in time' stock management are having more and more serious consequences."

This week Britvic reported a 3.4% increase in third-quarter revenues to £366.9m, though revenue excluding the soft drinks levy fell 0.6% in the period when the CO2 shortage hit sales.

In its statement the supplier said it had "temporarily scaled back our promotional activity and reallocated some of our secondary feature space to stills. Supply has now normalised, enabling us to start rebuilding stock levels and gradually reintroduce promotions."

Britvic did not address availability issues in its results statement and refused to provide further comment.

However, analysts at Société Générale suggested it would "take a few weeks to re-stock and normalise shelf space allocation".